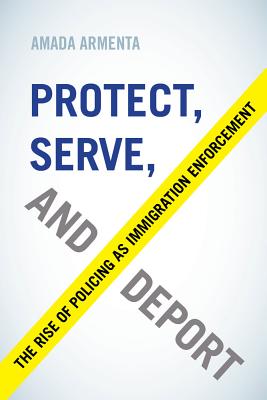 Protect, Serve, and Deport
The Rise of Policing as Immigration Enforcement
Paperback

* Individual store prices may vary.
Description
A free ebook version of this title is available through Luminos, the UC Press open access publishing program. Visit 
www.luminosoa.org
 to learn more.
Protect, Serve, and Deport
exposes the on-the-ground workings of local immigration enforcement in Nashville, Tennessee. Between 2007 and 2012, Nashville's local jail participated in an immigration enforcement program called 287(g), which turned jail employees into immigration officers who identified over ten thousand removable immigrants for deportation. The vast majority of those identified for removal were not serious criminals, but Latino residents arrested by local police for minor violations.
Protect, Serve, and Deport
explains how local politics, state laws, institutional policies, and police practices work together to deliver immigrants into an expanding federal deportation system, conveying powerful messages about race, citizenship, and belonging.  
Praise For Protect, Serve, and Deport: The Rise of Policing as Immigration Enforcement…
"This stellar volume cements Armenta's status as an expert ethnographer working at the intersection of the sociology of critical criminology, law and society, and immigration. Academics and non-academics, graduate and under-graduate students alike will find in this text a readable and eminently troubling portrait of immigrant life in the deportation nation, a story deftly told through the clear-eyed and empathetic vision of one of the field's rising stars."
— Theoretical Criminology
"Should be required reading for anyone interested in understanding what happens when local police facilitate mass deportation."
— Law & Society Review
"Amada Armenta's Protect, Serve, and Deport makes a notable contribution to this burgeoning scholarship by tracing the adoption, rollout, and consequences of the 287(g) program in Davidson County, Tennessee . . . [it] is particularly timely and highly relevant to scholars researching immigrant criminalization, policing, or color-blind racism."
— American Journal of Sociology
"Armenta provides us with a rich ethnography of immigration policing in Nashville that is so insightful that it will also be of interest to scholars working on immigration enforcement, bordering practices, racial profiling, discretion, and policing in many other settings. It is truly a stellar book that should become mandatory reading on any syllabus or comprehensive exam list in border criminology and critical police studies in the United States and beyond."
— Border Criminologies
University of California Press, 9780520296305, 212pp.
Publication Date: June 26, 2017
About the Author
Amada Armenta is Associate Professor of Urban Planning at the UCLA Luskin School of Public Affairs.