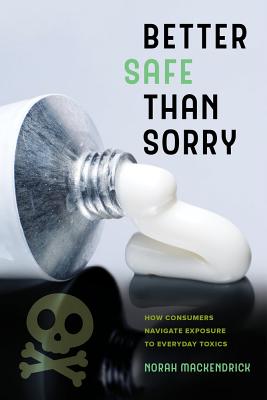 Better Safe Than Sorry
How Consumers Navigate Exposure to Everyday Toxics
Paperback

* Individual store prices may vary.
Other Editions of This Title:
Hardcover (5/1/2018)
Description
How toxic are the products we consume on a daily basis? Whether it's triclosan in toothpaste, formaldehyde in baby shampoo, endocrine disruptors in water bottles, or pesticides on strawberries, chemicals in food and personal care products are of increasing concern to consumers. This book chronicles how ordinary people try to avoid exposure to toxics in grocery store aisles using the practice of "precautionary consumption."
 
Through an innovative analysis of environmental regulation, the advocacy work of environmental health groups, the expansion of the health-food chain Whole Foods Market, and interviews with consumers, Norah MacKendrick ponders why the problem of toxics in the U.S. retail landscape has been left to individual shoppers—and to mothers in particular. She reveals how precautionary consumption, or "green shopping," is a costly and time-intensive practice, one that is connected to cultural ideas of femininity and good motherhood but is also most available to upper- and middle-class households. Better Safe Than Sorry powerfully argues that precautionary consumption places a heavy and unfair burden of labor on women and does little to advance environmental justice or mitigate risk.
Praise For Better Safe Than Sorry: How Consumers Navigate Exposure to Everyday Toxics…
"Examining everyday toxics from a variety of angles, MacKendrick's book is an impressive analysis of how many of us shop today, why we do so, and what we can do to achieve greater equality."
— New Books Network
"The topic dealt within the book is timely and of great concern to post-modern consumers: how do we make our decisions when buying something that can affect our health? . . . It shows how the failure to apply the precautionary principle in the USA leads inexorably individual consumers alone to navigate complicate decisions about which products to buy, whilst widespread consumers' concern and uncertainty open spaces to be capitalised by the market actors on the promise of health and safety."
— Review of Agricultural, Food and Environmental Studies
"Better Safe than Sorry is a richly evidenced, engagingly written account of a phenomenon of central interest to sociologists studying health, gender, social movements, political consumption, and the environment. MacKendrick has provided readers with a definitive account of precautionary consumption, theorizing this phenomenon in a way that connects macro- to microlevel social action. This work shows us how corporate control of government regulation renders the consumer marketplace a minefield of health risks and how gendered social discourses implicating mothers as the guardians of their families' well-being combine to create a practice that is financially, temporally, and emotionally draining: precautionary consumption."
— American Journal of Sociology
University of California Press, 9780520296695, 272pp.
Publication Date: May 1, 2018
About the Author
Norah MacKendrick is Assistant Professor of Sociology at Rutgers University.