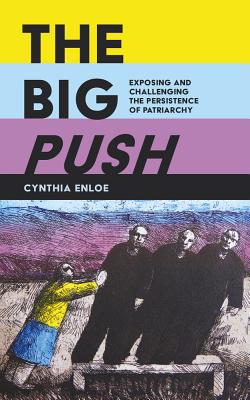 The Big Push
Exposing and Challenging the Persistence of Patriarchy
Paperback

* Individual store prices may vary.
Other Editions of This Title:
Hardcover (10/26/2017)
Description
For over a century and in scores of countries, patriarchal presumptions and practices have been challenged by women and their male allies. "Sexual harassment" has entered common parlance; police departments are equipped with rape kits; more than half of the national legislators in Bolivia and Rwanda are women; and a woman candidate won the plurality of the popular votes in the 2016 United States presidential election. But have we really reached equality and overthrown a patriarchal point of view?  The Big Push exposes how patriarchal ideas and relationships continue to be modernized to this day. Through contemporary cases and reports, renowned political scientist Cynthia Enloe exposes the workings of everyday patriarchy—in how Syrian women civil society activists have been excluded from international peace negotiations; how sexual harassment became institutionally accepted within major news organizations; or in how the UN Secretary General's post has remained a masculine domain. Enloe then lays out strategies and skills for challenging patriarchal attitudes and operations. Encouraging self-reflection, she guides us in the discomforting curiosity of reviewing our own personal complicity in sustaining patriarchy in order to withdraw our own support for it. Timely and globally conscious, The Big Push is a call for feminist self-reflection and strategic action with a belief that exposure complements resistance.

Praise For The Big Push: Exposing and Challenging the Persistence of Patriarchy…
"Long-term admirers of Cynthia Enloe will know she writes in a pithy, witty, clear, and accessible style that (together with her knack for finding a catchy title to draw in her readers) ensures her work is accessible and easily read and absorbed. She has the popular touch."
— Gender and Development

"Part narrative, part political history, and all feminist analysis. . . . An important contribution to scholarly work on gender inequality. Enloe provides an insightful and engaging analysis of why patriarchal beliefs and practices are so resilient, while outlining how feminist concepts, questioning, and investigation can be used to dismantle this perpetuating system. This text will appeal to scholars and activists as well as women and men who simply value empowerment, equality, and social justice."
— Gender and Society
University of California Press, 9780520296893, 208pp.
Publication Date: October 26, 2017
About the Author
Cynthia Enloe is Research Professor at Clark University specializing in critical studies of militarism and transnational feminism. She has appeared on the BBC, Al Jazeera, and NPR and has written for Ms. and the Village Voice. She is the author of more than fifteen books, including Maneuvers: The International Politics of Militarizing Women's Lives and The Curious Feminist: Searching for Women in a New Age of Empire. Enloe was awarded the Howard Zinn Lifetime Achievement in Peace Studies Award from the Peace and Justice Studies Association (PJSA).