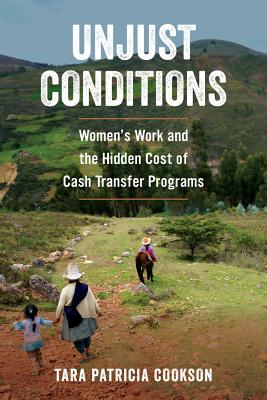 Unjust Conditions
Women's Work and the Hidden Cost of Cash Transfer Programs
Paperback

* Individual store prices may vary.
Description
A free ebook version of this title is available through Luminos, University of California Press's Open Access publishing program. Visit www.luminosoa.org to learn more.

Unjust Conditions follows the lives and labors of poor mothers in rural Peru, richly documenting the ordeals they face to participate in mainstream poverty alleviation programs. Championed by behavioral economists and the World Bank, conditional cash transfer (CCT) programs are praised as efficient mechanisms for changing poor people's behavior. While rooted in good intentions and dripping with the rhetoric of social inclusion, CCT programs' successes ring hollow, based solely on metrics for children's attendance at school and health appointments. Looking beyond these statistics reveals a host of hidden costs for the mothers who meet the conditions. With a poignant voice and keen focus on ethnographic research, Tara Patricia Cookson turns the reader's gaze to women's care work in landscapes of grossly inadequate state investment, cleverly drawing out the tensions between social inclusion and conditionality.
Praise For Unjust Conditions: Women's Work and the Hidden Cost of Cash Transfer Programs…
"[Cookson] is able to present her informants in a perceptive and nuanced way which shows careful reflection of wider debates around 'development' and representation . . . this is a 'must read' for all those with an interest in the gendered and racialised nature of poverty."
— Gender & Development

"A nuanced analysis of a widely implemented and evaluated approach to poverty reduction . . . Unjust Conditions is a must-read for those interested in the political-economic drivers of poverty, as well as researchers, students and practitioners of development, gender and labour, and governance and social policy who wish to understand CCT from a critical perspective."
— Anthropologica

"Anyone interested in women's care work, critical development studies, institutional ethnography, and/or the rural Peruvian Andes will want to read this text. Cookson's ethnography is extensive, historical, and dynamic. She has rendered her time spent in Peru in vivid geographic detail."
— Gender, Place & Culture

"Cookson poignantly unpacks the underpinnings of [conditional cash transfer programs] within mainstream economic theory in terms of rational decision making and cost –benefit analysis."
— Politics & Gender

"[T]he unsettling evidence presented in Unjust Conditions provides a compelling reason for exploring these 'hidden costs' across the many other contexts in which [CCT] programs are implemented."
— American Journal of Sociology
University of California Press, 9780520296992, 212pp.
Publication Date: May 10, 2018
About the Author
Tara Patricia Cookson is a SSHRC Research Fellow at the University of British Columbia and the founder of Ladysmith, a women's equality venture. Her research on gender, international development, and social justice has been published in a variety of public and policy outlets as well as in academic journals such as Antipode.