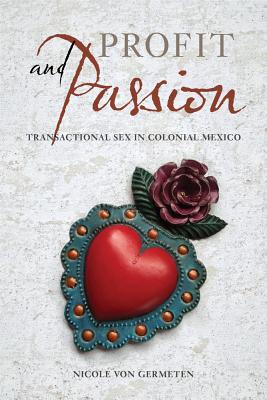 Profit and Passion
Transactional Sex in Colonial Mexico
Paperback

* Individual store prices may vary.
Other Editions of This Title:
Hardcover (4/6/2018)
Description
Colonial documents and works of literature from early modern Spain are rife with references to public women, whores, and prostitutes. In Profit and Passion, Nicole von Germeten offers a new history of the women who carried and resisted these labels of ill repute. The elusive, ever-changing terminology for prosecuted women voiced by kings, jurists, magistrates, inquisitors, and bishops, as well as disgruntled husbands and neighbors, foreshadows the increasing regulation, criminalization, and polarizing politics of modern global transactional sex. The author's analysis concentrates on the words women spoke in depositions and court appearances and on how their language changed over time, pointing to a broader transformation in the history of sexuality, gender, and the ways in which courts and law enforcement processes affected women.
Praise For Profit and Passion: Transactional Sex in Colonial Mexico…
"Profit and Passion offers a fascinating glimpse into the colonial archives that is useful and informative for historians and literary scholars alike. Von Germeten restores these women's voices to historical accounts of their identity, and her nuanced approach to the mediated nature of the discourses will help to bring much-needed caution to our reading of these types of records."
— Journal of Interdisciplinary History
"Profit and Passion: Transactional Sex in Colonial Mexico, Nicole von Germeten relocates women's sexuality to the center of imperial geographies. She not only charts the history of transactional sex in New Spain from the 1500s to the early nineteenth century, but links the theme to the changing status of women, their economic and domestic activities, their relationship with the state, and the category of respectability. This book is therefore an important contribution to the extremely limited literature on prostitution in New Spain, to the growing body of works on the history of sexuality in Mexico, and to our understanding of women's history in the colony."
— H-Net Reviews
"Von Germeten adeptly frames her book within the concerns of current-day sex worker activists, and in keeping with these, in her historical treatment she foregrounds the agency and motivations of the practitioners she studies. Instructors will, no doubt, find this an attractive text to assign in undergraduate and graduate classes; the detailed histories of the individual women she studies effectively animate her work."
— American Historical Review
"Provides a very rich analysis and opens up this topic for an Anglophone audience. . . . An important addition to the scholarly literature on gender in colonial Latin America and sexuality studies."
— Hispanic American Historical Review
University of California Press, 9780520297319, 264pp.
Publication Date: April 6, 2018
About the Author
Nicole von Germeten is Professor of History at Oregon State University.