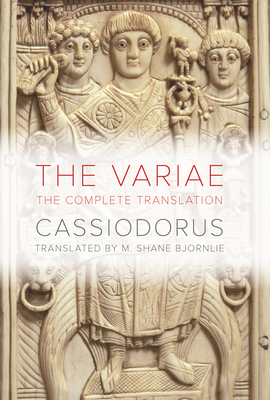 The Variae (Hardcover)
The Complete Translation
University of California Press, 9780520297364, 530pp.
Publication Date: October 15, 2019
* Individual store prices may vary.
Description
Cassiodorus—famed throughout history as one of the great Christian exegetes of antiquity—spent most of his life as a high-ranking public official under the Ostrogothic King Theoderic and his heirs. He produced the Variae, a unique letter collection that gave witness to the sixth-century Mediterranean, as late antiquity gave way to the early middle ages. The Variae represents thirty years of Cassiodorus's work in civil, legal, and financial administration, revealing his interactions with emperors and kings, bishops and military commanders, private citizens, and even criminals. Thus, the Variae remains among the most important sources for the history of this pivotal period and is an indispensable resource for understanding political and diplomatic culture, economic and legal structure, intellectual heritage, urban landscapes, religious worldview, and the evolution of social relations at all levels of society during the twilight of the late-Roman state. This is the first full translation of this masterwork into English.
 
About the Author
M. Shane Bjornlie is Associate Professor of Roman and Late Antique History in the Department of History at Claremont McKenna College.