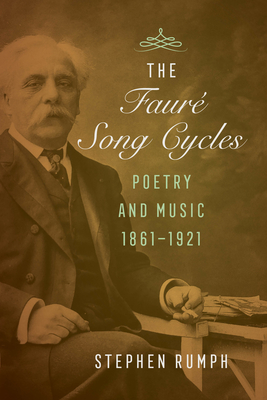 The Faure Song Cycles (Hardcover)
Poetry and Music, 1861–1921
University of California Press, 9780520297623, 278pp.
Publication Date: September 29, 2020
* Individual store prices may vary.
Description
Gabriel Fauré's mélodies offer an inexhaustible variety of style and expression that have made them the foundation of the French art song repertoire. During the second half of his long career, Fauré composed all but a handful of his songs within six carefully integrated cycles. Fauré moved systematically through his poetic contemporaries, exhausting Baudelaire's Les fleurs du mal before immersing himself in the Parnassian poets. He would set nine poems by Armand Silvestre in swift succession (1878-84), seventeen by Paul Verlaine (1887-94), and eighteen by Charles Van Lerberghe (1906-14). As an artist deeply engaged with some of the most important cultural
issues of the period, Fauré reimagined his musical idiom with each new poet and school, and his song cycles show the same sensitivity to the poetic material. Far more than Debussy, Ravel, or Poulenc, he crafted his song cycles as integrated works, reordering poems freely and using narratives, key schemes, and even leitmotifs to unify the individual songs. The Fauré Song Cycles explores the peculiar vision behind each synthesis of music and verse, revealing the astonishing imagination and insight of Fauré's musical readings. This book offers not only close readings of Fauré's musical works but an interdisciplinary study of how he responded to the changing schools and aesthetic currents of French poetry.
About the Author
Stephen Rumph is Associate Professor of Music History at the University of Washington. He is the author of Beethoven after Napoleon: Political Romanticism in the Late Works and Mozart and Enlightenment Semiotics. He is also the coeditor of Fauré Studies, part of the Cambridge Composer Series.