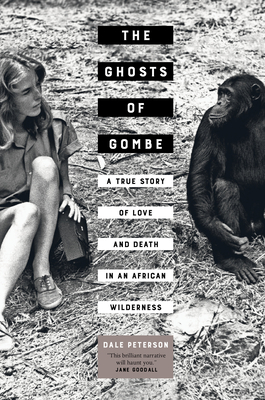 The Ghosts of Gombe
A True Story of Love and Death in an African Wilderness
Hardcover

* Individual store prices may vary.
Description
On July 12, 1969, Ruth Davis, a young American volunteer at Dr. Jane Goodall's famous chimpanzee research camp in the Gombe Stream National Park of Tanzania, East Africa, walked out of camp to follow a chimpanzee into the forest. Six days later, her body was found floating in a pool at the base of a high waterfall. With careful detail, The Ghosts of Gombe reveals for the first time the full story of day-to-day life in Goodall's wilderness camp—the people and the animals, the stresses and excitements, the social conflicts and cultural alignments, and the astonishing friendships that developed between three of the researchers and some of the chimpanzees—during the months preceding that tragic event. Was Ruth's death an accident? Did she jump? Was she pushed? In an extended act of literary forensics, Goodall biographer Dale Peterson examines how Ruth's death might have happened and explores some of the painful sequelae that haunted two of the survivors for the rest of their lives.
Praise For The Ghosts of Gombe: A True Story of Love and Death in an African Wilderness…
"Jane Goodall's research center on the shores of a Tanzanian lake pulsates with the passions, perils, and promises of the 1960s in Dale Peterson's The Ghosts of Gombe."
— Foreword

"It's challenging to put together a complete picture so long after they happened, but Peterson uses letters, camp records, and personal accounts to tell the story artfully... Jane Goodall has spent a lifetime trying to understand the behaviors and relationships of the apes in Tanzania. With The Ghosts of Gombe, Dale Peterson has attempted to do the same for the people who made her research possible. It is the similarities between these two endeavors that make his book a worthwhile read."
— Science

"An impressively informative and inherently fascinating read from cover to cover, "The Ghosts of Gombe: A True Story of Love and Death in an African Wilderness" is an extraordinary and unique study that is exceptionally well written, organized and presented... especially and unreservedly recommended for both community and academic library collections."
— Midwest Review of Books

"Peterson's engrossing, sometimes dizzyingly kaleidoscopic narrative is bookended by nuanced analyses of how Davis might have died, and the aftershocks that still rock those who knew her best."
— Nature

"Peterson's work is a must-read for those interested in Jane Goodall's work and primate research in general."
— Tulsa Book Review

"Peterson has written an engaging and thoughtful account of a little-known period of Gombe history."
— Primates
University of California Press, 9780520297715, 232pp.
Publication Date: April 6, 2018
About the Author
Dale Peterson is the author or editor of twenty books, including Jane Goodall: The Woman Who Redefined Man, Demonic Males: Apes and the Origins of Human Violence (coauthored with Richard Wrangham), The Moral Lives of Animals, and Eating Apes.