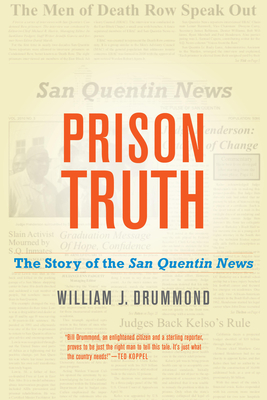 Prison Truth
The Story of the San Quentin News
Hardcover

* Individual store prices may vary.
Description
San Quentin State Prison, California's oldest prison and the nation's largest, is notorious for once holding America's most dangerous prisoners. But in 2008, the Bastille-by-the-Bay became a beacon for rehabilitation through the prisoner-run newspaper the San Quentin News.

Prison Truth tells the story of how prisoners, many serving life terms, transformed the prison climate from what Johnny Cash called a living hell to an environment that fostered positive change in inmates' lives. Award-winning journalist William J. Drummond takes us behind bars, introducing us to Arnulfo García, the visionary prisoner who led the revival of the newspaper. Drummond describes how the San Quentin News, after a twenty-year shutdown, was recalled to life under an enlightened warden and the small group of local retired newspaper veterans serving as advisers, which Drummond joined in 2012. Sharing how officials cautiously and often unwittingly allowed the newspaper to tell the stories of the incarcerated, Prison Truth illustrates the power of prison media to humanize the experiences of people inside penitentiary walls and to forge alliances with social justice networks seeking reform.
Praise For Prison Truth: The Story of the San Quentin News…
"Prison Truth chronicles Drummond's past, along with the remarkable efforts by San Quentin Prison inmates to document their circumstances—and in so doing, achieve rehabilitation through introspection and expression. . . . [The book] comes at a time when the debate around incarceration has been rapidly shifting, fueled as much by the exorbitant cost of confining inmates as by concerns about reconciliation and rehabilitation."
— Los Angeles Times
"For anyone concerned with the prison reform movement, it is critical to engage with the media portrayals of inmates. And for that, Prison Truth is an essential book. Today, inmates write their own stories, and it is more important than ever."
— Los Angeles Review of Books
"Prison Truth examines the advantages of having stories told by people directly affected by incarceration. The resulting news narratives are from the vantage point of embedded reporters."
— San Quentin News
University of California Press, 9780520298361, 344pp.
Publication Date: January 7, 2020
About the Author
William J. Drummond is Professor of Journalism at the University of California, Berkeley. His award-winning career includes stints at the Louisville Courier-Journal, where he covered the civil rights movement, and the Los Angeles Times, where he was a local reporter, then bureau chief in New Delhi and Jerusalem, and later a Washington correspondent. He was appointed a White House Fellow by then president Gerald R. Ford and later became Jimmy Carter's associate press secretary. He joined NPR in 1977 and became the founding editor of Morning Edition. At UC Berkeley, Drummond was awarded the 2016 Leon A. Henkin Award for his distinguished service and exceptional commitment to the educational development of students from groups who are underrepresented in the academy.