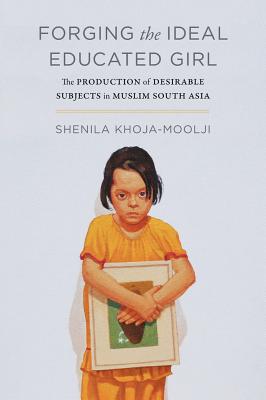 Forging the Ideal Educated Girl
The Production of Desirable Subjects in Muslim South Asia (Islamic Humanities)
Paperback

* Individual store prices may vary.
Description
A free ebook version of this title is available through Luminos, University of California Press's Open Access publishing program for monographs. Visit www.luminosoa.org to learn more.

In Forging the Ideal Educated Girl, Shenila Khoja-Moolji traces the figure of the 'educated girl' to examine the evolving politics of educational reform and development campaigns in colonial India and Pakistan. She challenges the prevailing common sense associated with calls for women's and girls' education and argues that such advocacy is not simply about access to education but, more crucially, concerned with producing ideal Muslim woman-/girl-subjects with specific relationships to the patriarchal family, paid work, Islam, and the nation-state. Thus, discourses on girls'/ women's education are sites for the construction of not only gender but also class relations, religion, and the nation.
  
Praise For Forging the Ideal Educated Girl: The Production of Desirable Subjects in Muslim South Asia (Islamic Humanities)…
"Essential reading for academics, researchers, and students interested in questions of gender and South Asia."
— Reading Religion

"Khoja-Moolji beautifully conveys the complexity of the constantly shifting and [re]articulated educated subjectivities and class identities of Muslim woman/girls in South Asia."
— LSE Review of Books

"A complex and intriguing genealogy of the educated Muslim girl that is relevant for colonial India and Pakistan, and beyond."
— Politics and Gender

"Khoja-Moolji provides an engaging critical examination of mainstream narratives of education as inherently empowering institutions, as well as the stereotypes of Muslim girls, women, and societies, that is accessible to education researchers and students alike."
— Comparative Education Review

"Khoja-Moolji is able to identify multiple tiers of nuance in issues pertaining to access to education, class differences, and imposing perceptions by Western ideologies."
— Journal of Muslim Philanthropy & Civil Society

"Readers will be equipped to understand Muslim women and girls in a more nuanced light, rather than as a monolith."
— Feminist Theory

"A compelling account of the evolving political and social dynamics that have generated and situated 'girl-centric' educational reforms in colonial India. . . . contributes significantly to the dearth of current literature on the context and concepts of global neoliberal education."
— Gender and Education

"This book's rich interdisciplinary scholarship and new insights into re-examining questions around girls' education and its myriad links to ideas of development make it an important read for scholars across fields of education, gender studies, anthropology and media studies."
— Compare: A Journal of Comparative and International Education
University of California Press, 9780520298408, 218pp.
Publication Date: July 3, 2018
About the Author
Shenila Khoja-Moolji is Assistant Professor of Gender, Sexuality, and Women's Studies at Bowdoin College. Her work examines the interplay of gender, race, religion, and power in transnational contexts, particularly in relation to Muslim populations.