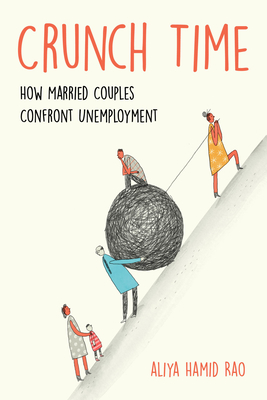 Crunch Time
How Married Couples Confront Unemployment
Paperback

* Individual store prices may vary.
Other Editions of This Title:
Hardcover (6/9/2020)
Description
In Crunch Time, Aliya Hamid Rao gets up close and personal with college-educated, unemployed men, women, and spouses to explain how comparable men and women have starkly different experiences of unemployment. Traditionally gendered understandings of work—that it's a requirement for men and optional for women—loom large in this process, even for marriages that had been not organized in gender-traditional ways. These beliefs serve to make men's unemployment an urgent problem, while women's unemployment—cocooned within a narrative of staying at home—is almost a non-issue. Crunch Time reveals the minutiae of how gendered norms and behaviors are actively maintained by spouses at a time when they could be dismantled, and how gender is central to the ways couples react to and make sense of unemployment.
Praise For Crunch Time: How Married Couples Confront Unemployment…
This is a must read for students and scholars interested in the gendered negotiations and gendered patterns of work for pay and housework. The book is well researched and situated in the relevant literature, but it is also accessible and could be used in any undergraduate course on gender, work, and the family. . . . Essential.
— CHOICE
"
Crunch Time
is a necessary addition to the sociological research on unemployment that has been surprisingly lacking in a gendered/work-family lens. . . . engagingly written and accessible to a wide audience."
— LSE Review of Books
"Rao joins the community of distinguished scholars who have carefully uncovered how economic pressures seep into family life, tracing the taken-for-granted cultural logics. . . people rely on to order their lives when confronting the challenge of economic instability."
— Contemporary Sociology
"Timely, important, and masterfully crafted."
— American Journal of Sociology
"Rao persuasively shows how traditional gender norms shape the navigation of anxieties about social status, economic uncertainty, and job-searching demands. She further demonstrates how following these norms, in turn, advantages men's reemployment. The study offers crucial insights into the barriers to transforming gender relations while raising pressing questions about the prospects of gender egalitarian family life."
— Gender & Society
"
Crunch Time
is an example of qualitative sociological analysis at its best: Rao carefully scrutinizes the taken-for-granted to precisely articulate the social processes that generate everyday inequalities. . . . This book is an important addition to the scholarship on work and employment, marriage and family, and gender that will undoubtedly frame our conversations as families navigate the current labor market precarity of the COVID-19 pandemic era."
— Industrial and Labor Relations Review
University of California Press, 9780520298613, 308pp.
Publication Date: June 9, 2020
About the Author
Aliya Hamid Rao is Assistant Professor in the Department of Methodology at the London School of Economics.