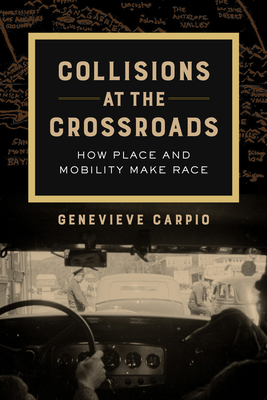 Collisions at the Crossroads
How Place and Mobility Make Race (American Crossroads #53)
Hardcover

* Individual store prices may vary.
Other Editions of This Title:
Paperback (4/16/2019)
Description
There are few places where mobility has shaped identity as widely as the American West, but some locations and populations sit at its major crossroads, maintaining control over place and mobility, labor and race. In Collisions at the Crossroads, Genevieve Carpio argues that mobility, both permission to move freely and prohibitions on movement, helped shape racial formation in the eastern suburbs of Los Angeles and the Inland Empire throughout the nineteenth and twentieth centuries. By examining policies and forces as different as historical societies, Indian boarding schools, bicycle ordinances, immigration policy, incarceration, traffic checkpoints, and Route 66 heritage, she shows how local authorities constructed a racial hierarchy by allowing some people to move freely while placing limits on the mobility of others. Highlighting the ways people of color have negotiated their place within these systems, Carpio reveals a compelling and perceptive analysis of spatial mobility through physical movement and residence.
 
Praise For Collisions at the Crossroads: How Place and Mobility Make Race (American Crossroads #53)…
"In this beautifully-written and clearly-argued work, Genevieve Carpio demonstrates the interconnectedness of mobility and race in inland southern California . . . [and] teaches scholars that mobility has been continuously contested, even as whites have sought to erase this history."
— Journal of Arizona History
"This text earns a place of prominence in the field of American and ethnic studies and contributes greatly to the study of US history."
— Aztlan
"Carpio's book is a noteworthy contribution to our historical and present-day understanding of how racial hierarchies are used to curtail the rights and privileges of communities of color. . . . Reading a bit like a local version of Howard Zinn's 
A People's History of the United States
, her writing poetically uncovers racial inequalities in the legal system, while simultaneously portraying a dynamic human experience."
— Boom California
"Carpio's book will no doubt inspire future scholars to consider the relationship between place and space, race, and mobility in a variety of temporal and geographic locations."
— Journal of the West
"Carpio shows how the Riverside Historical Society and many of the Inland Empire's Route 66 historians manipulate their region's history by remembering what they want to remember and ignoring the other accounts."
— LA Taco
"Carpio's attention to people's everyday negotiations with the structures that govern mobility will be of interest to historians of colonial and postcolonial mobility, to cultural historians of bicycles, automobiles, and highways, and to historians of migration, space, and place."
— Journal of Transport History
"Collisions at the Crossroads . . . presents a critical contribution to our understanding of the relationship between place, mobility, and race."
— California History
University of California Press, 9780520298828, 392pp.
Publication Date: April 16, 2019
About the Author
Genevieve Carpio is Assistant Professor of Chicana and Chicano Studies at the University of California, Los Angeles.