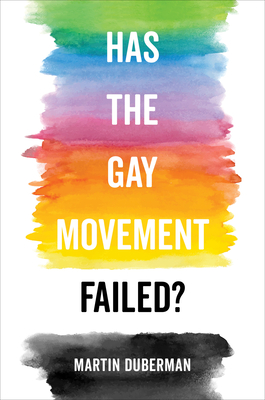 Has the Gay Movement Failed? (Hardcover)
University of California Press, 9780520298866, 272pp.
Publication Date: June 8, 2018
Other Editions of This Title:
Paperback (4/28/2020)
* Individual store prices may vary.
Description
"Martin Duberman is a national treasure."
—Masha Gessen, The New Yorker

The past fifty years have seen significant shifts in attitudes toward LGBTQ people and wider acceptance of them in the United States and the West. Yet the extent of this progress, argues Martin Duberman, has been more broad and conservative than deep and transformative. One of the most renowned historians of the American left and the LGBTQ movement, as well as a pioneering social-justice activist, Duberman reviews the half century since Stonewall with an immediacy and rigor that informs and energizes. He revisits the early gay movement and its progressive vision for society and puts the left on notice as failing time and again to embrace the queer potential for social transformation. Acknowledging the elimination of some of the most discriminatory policies that plagued earlier generations, he takes note of the cost—the sidelining of radical goals on the way to achieving more normative inclusion. Illuminating the fault lines both within and beyond the movements of the past and today, this critical book is also hopeful: Duberman urges us to learn from this history to fight for a truly inclusive and expansive society.
About the Author
Martin Duberman is Distinguished Professor of History Emeritus at City University of New York, where he founded and directed the Center for Lesbian and Gay Studies. He is the author of numerous histories, biographies, memoirs, essays, plays, and novels, which include Cures: A Gay Man's Odyssey, Paul Robeson, Stonewall, Black Mountain: An Exploration in Community, The Worlds of Lincoln Kirstein, and more than a dozen others. He is the recipient of the Bancroft Prize, multiple Lambda Literary Awards, and the Lifetime Achievement Award from the American Historical Association, and he has been a finalist for the Pulitzer Prize and the National Book Award. In 2012 Duberman received an honorary Doctor of Humane Letters from Amherst College and in 2017 an honorary Doctor of Letters from Columbia University.
Praise For Has the Gay Movement Failed?…
"Duberman is a national treasure. He is an American historian and a pioneer of L.G.B.T.Q. studies. At eighty-seven, he is writing faster than ever;...this book, which, at two hundred and seven pages, packs enough information and ideas for four or five more. It brings together Duberman's passions and the research he has conducted over many years. [Duberman] has been writing about these things for so long that some of his own ideas have become his source material."—Masha Gessen
— The New Yorker
"Readers concerned with contemporary social issues will devour this call to action. Highly recommended." STARRED REVIEW
— Library Journal
"Always lucid and insightful, this is a major work that enriches LGBTQ literature and belongs in every library." STARRED REVIEW
— Booklist
"A fascinating read."
— Gay City News
"Right now is the time to give Duberman's book a close read, and listen to this 87-year-old, gay-married guy."
— The Bay Area Reporter
"Makes the provocative but compelling case that the fight for same-sex marriage marked a costly detour away from the radical politics at the root of the LGBT rights movement."
— The Daily Beast
"A relevant, fiery, and dizzying treatise certain to provoke debate and discussion."
— Kirkus Review
"Duberman's book is an urgent and much-needed clarion call for the 'gay movement' to reinvent itself for the 21st century. He covers enormous ground for a relatively short and broadly accessible book. "
— PopMatters
"A useful reference point that maps the history of the movement before building an argument for broadening the focus of LGBTQ politics."
— Times Higher Education