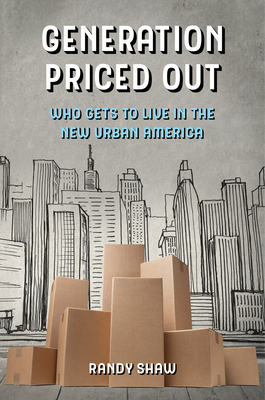 Generation Priced Out
Who Gets to Live in the New Urban America
Hardcover

* Individual store prices may vary.
Other Editions of This Title:
Paperback (4/7/2020)
Description
Generation Priced Out is a call to action on one of the most talked-about issues of our time: how skyrocketing rents and home values are pricing the working and middle classes out of urban America. Randy Shaw tells the powerful stories of tenants, politicians, homeowner groups, developers, and activists in over a dozen cities impacted by the national housing crisis. From San Francisco to New York, Seattle to Denver, and Los Angeles to Austin, Generation Priced Out challenges progressive cities to reverse rising economic and racial inequality.
 
Shaw exposes how boomer homeowners restrict millennials' access to housing in big cities, a generational divide that increasingly dominates city politics.  Shaw also demonstrates that neighborhood gentrification is not inevitable and presents proven measures for cities to preserve and expand their working- and middle-class populations and achieve more equitable and inclusive outcomes. Generation Priced Out is a must-read for anyone concerned about the future of urban America.

 
Praise For Generation Priced Out: Who Gets to Live in the New Urban America…
Recommended Reading, "101 Books About Where and How We Live": "This city-by-city examination of the nation's spreading affordability problem shows how long commutes, housing instability, and decentralized communities have become national issues."
— Curbed
"What I liked most about this breezy, easy-to-read book is that it rebuts a wide variety of anti-housing arguments."
— Market Urbanism
"'Generation Priced Out' boldly challenges the progressive community to rethink how to achieve greater economic and racial diversity by providing more affordable housing. . . . Shaw's book adds a thoughtful voice to the national discussion in addressing such questions."
— Seattle Times
"In Generation Priced Out, San Francisco tenant activist Randy Shaw paints a picture of a nation beginning to wake up to its housing crisis, but unsure of what to do about it."
— City Lab
"Full of informative history on urban housing policy, plus useful political advice from a longtime foe of landlords and developers in the much-contested and increasingly unaffordable terrain of San Francisco. Generation Priced Out: Who Gets to Live in The New Urban America also provides detailed community organizing case studies that show how we can keep urban neighborhoods from becoming further devoid of racial, class, and ethnic diversity due to market-driven gentrification. Shaw's marching orders are simple and sensible. . . .  As tenant struggles become a bigger focus of activist recruitment and training throughout the country, Shaw's book will be in much demand as an essential organizing guide for people, of all generations, 'priced out' of affordable housing."
— CounterPunch
"Written in a lucid and engaging style, the book draws on extensive first-hand experience of tenant organising, activism, and policy-writing as well as interviews with a real who's-who of housing activists in several high-cost US cities not only to make the case for urban policy to take housing affordability seriously, but also to outline concrete steps to get there."
— Intergenerational Justice Review
University of California Press, 9780520299122, 304pp.
Publication Date: November 6, 2018
About the Author
Randy Shaw is Director of the Tenderloin Housing Clinic, San Francisco's leading provider of housing for homeless single adults. His previous books include The Activist's Handbook: Winning Social Change in the 21st Century; Beyond the Fields: Cesar Chavez, the UFW, and the Struggle for Justice in the 21st Century; and The Tenderloin: Sex, Crime, and Resistance in the Heart of San Francisco.