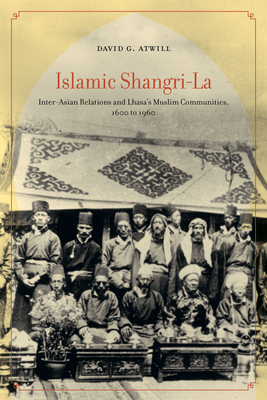 Islamic Shangri-La (Paperback)
Inter-Asian Relations and Lhasa's Muslim Communities, 1600 to 1960
University of California Press, 9780520299733, 258pp.
Publication Date: October 9, 2018
* Individual store prices may vary.
Description
A free ebook version of this title is available through Luminos, University of California Press's Open Access publishing program for monographs. Visit 
www.luminosoa.org
 to learn more.
Islamic Shangri-La
transports readers to the heart of the Himalayas as it traces the rise of the Tibetan Muslim community from the 17th century to the present. Radically altering popular interpretations that have portrayed Tibet as isolated and monolithically Buddhist, David Atwill's vibrant account demonstrates how truly cosmopolitan Tibetan society was by highlighting the hybrid influences and internal diversity of Tibet. In its exploration of the Tibetan Muslim experience, this book presents an unparalleled perspective of Tibet's standing during the rise of post–World War II Asia.
About the Author
David G. Atwill is Associate Professor of History at Penn State University where he teaches a broad range of courses on China, Tibet, and world history. His previous books include The Chinese Sultanate: Islam, Ethnicity, and the Panthay Rebellion in Southwestern China, 1856–1873 and Sources in Chinese History: Diverse Perspectives from 1644 to the Present. 
 
 
Praise For Islamic Shangri-La: Inter-Asian Relations and Lhasa's Muslim Communities, 1600 to 1960…
"Professor Atwill deserves credit for bringing attention to a fascinating minority group in Tibet, one that had been neglected in many histories of Tibet."
— China Review International
"Islamic Shangri-La is a pioneering work in the study of Tibetan Muslims and an indispensable contribution to the growing literature and scholarship in Tibetan borderlands studies."
— LSE Review of Books