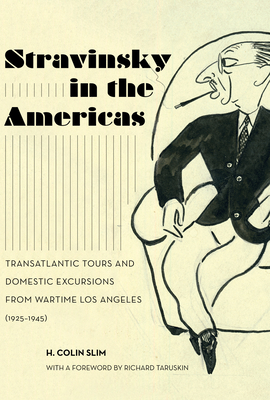 Stravinsky in the Americas
Transatlantic Tours and Domestic Excursions from Wartime Los Angeles (1925-1945) (California Studies in 20th-Century Music #23)
Hardcover

* Individual store prices may vary.
Description
Stravinsky in the Americas explores the "pre-Craft" period of Igor Stravinsky's life, from when he first landed on American shores in 1925 to the end of World War II in 1945. Through a rich archival trove of ephemera, correspondence, photographs, and other documents, eminent musicologist H. Colin Slim examines the twenty-year period that began with Stravinsky as a radical European art-music composer and ended with him as a popular figure in American culture. This collection traces Stravinsky's rise to fame—catapulted in large part by his collaborations with Hollywood and Disney and marked by his extra-marital affairs, his grappling with feelings of anti-Semitism, and his encounters with contemporary musicians as the music industry was emerging and taking shape in midcentury America. Slim's lively narrative records the composer's larger-than-life persona through a close look at his transatlantic tours and domestic excursions, where Stravinsky's personal and professional life collided in often-dramatic ways. 
Praise For Stravinsky in the Americas: Transatlantic Tours and Domestic Excursions from Wartime Los Angeles (1925-1945) (California Studies in 20th-Century Music #23)…
"This meticulously documented book sheds new light on the first two decades of Stravinsky's association with America, from the time of his first concert tour in 1925 to the premiere of the Symphony in Three Movements at Carnegie Hall in Janunary 1946. . . . This is not only a book to delight lovers of Stravinskian minutiae but also one that provides a richly documented study of a period in Stravinsky's life that has received relatively little attention." 
— Gramophone
University of California Press, 9780520299924, 488pp.
Publication Date: March 5, 2019
About the Author
H. Colin Slim is Professor Emeritus of Music at the University of California, Irvine, where he served as the first Chair of the music program. He is past president of the American Musicological Society (1989­–1990) and a Fellow of the American Academy of Arts and Sciences. His two-volume A Gift of Madrigals and Motets was awarded the Otto Kinkeldey Award. He met Igor Stravinsky in 1952 and again in 1966, events that inspired a lifelong interest in the composer's personal and professional life. His collection of Stravinsky ephemera, manuscripts, and documents was donated to the University of British Columbia, which published an annotated catalog of the collection in 2002.