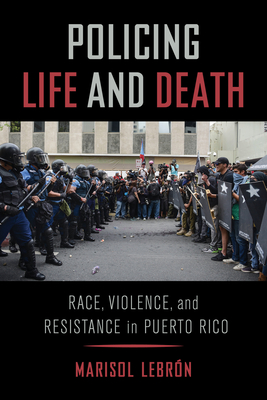 Policing Life and Death (Paperback)
Race, Violence, and Resistance in Puerto Rico
University of California Press, 9780520300170, 304pp.
Publication Date: March 12, 2019
* Individual store prices may vary.
Description
In her exciting new book, Marisol LeBrón traces the rise of punitive governance in Puerto Rico over the course of the twentieth century to the present moment. Punitive governance emerged as a way for the Puerto Rican state to manage the deep and ongoing crises stemming from the archipelago's incorporation into the United States as a colonial territory. Experienced as a structuring component of everyday life for many Puerto Ricans, police power has reinforced social inequality and worsened conditions of vulnerability in marginalized communities.
 
Far from a totalizing narrative of state violence, this book provides powerful examples of how Puerto Ricans negotiate and resist their subjection to increased levels of segregation, criminalization, discrimination, and harm. Policing Life and Death shows how Puerto Ricans are actively rejecting punitive solutions and working toward alternative understandings of safety and a more just future.
 
About the Author
Marisol LeBrón is Assistant Professor in the Department of Mexican American and Latina/o Studies at the University of Texas at Austin.