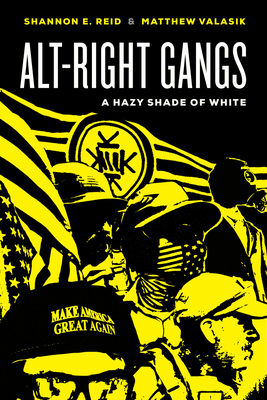 Alt-Right Gangs
A Hazy Shade of White
Paperback

* Individual store prices may vary.
Other Editions of This Title:
Hardcover (9/22/2020)
Description
Alt-Right Gangs provides a timely and necessary discussion of youth-oriented groups within the white power movement. Focusing on how these groups fit into the current research on street gangs, Shannon E. Reid and Matthew Valasik catalog the myths and realities around alt-right gangs and their members; illustrate how they use music, social media, space, and violence; and document the risk factors for joining an alt-right gang, as well as the mechanisms for leaving. By presenting a way to understand the growth, influence, and everyday operations of these groups, Alt-Right Gangs informs students, researchers, law enforcement members, and policy makers on this complex subject. Most significantly, the authors offer an extensively evaluated set of prevention and intervention strategies that can be incorporated into existing anti-gang initiatives. With a clear, coherent point of view, this book offers a contemporary synthesis that will appeal to students and scholars alike.
Praise For Alt-Right Gangs: A Hazy Shade of White…
"The work serves as a primer on the movement to the uninitiated, giving explanations of the ubiquitous alt-right memes that proliferate online as well as covering the cultural symbols, music, and clothing embraced by the Proud Boys and other groups. Using their background in gang research, Reid and Valasik provide law enforcement and policymakers with practical solutions on monitoring and tracking alt-right groups. . . . An important addition to the limited scholarship on the alt-right."
— Kirkus Reviews
"
Alt-Right Gangs
has considerable value as a contemporary synthesis that demystifies these groups for scholars, policy makers, and students alike and can be used in both undergraduate and graduate education."
— Social Forces
"Extremely timely and astute. . . . A greatly needed primer on alt-right gangs and wider white power youth movements."
— Ethnic and Racial Studies
University of California Press, 9780520300453, 208pp.
Publication Date: September 22, 2020
About the Author
Shannon E. Reid is Associate Professor of Criminal Justice and Criminology at the University of North Carolina, Charlotte.

Matthew Valasik is Associate Professor of Sociology at Louisiana State University.