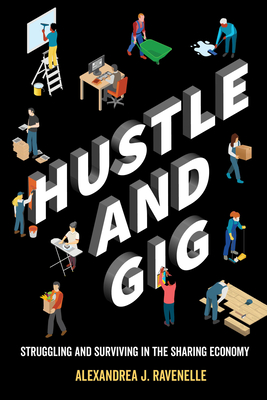 Hustle and Gig
Struggling and Surviving in the Sharing Economy
Paperback

* Individual store prices may vary.
Other Editions of This Title:
Hardcover (3/12/2019)
Description
Choose your hours, choose your work, be your own boss, control your own income. Welcome to the sharing economy, a nebulous collection of online platforms and apps that promise to transcend capitalism. Supporters argue that the gig economy will reverse economic inequality, enhance worker rights, and bring entrepreneurship to the masses. But does it?
 
In Hustle and Gig, Alexandrea J. Ravenelle shares the personal stories of nearly eighty predominantly millennial workers from Airbnb, Uber, TaskRabbit, and Kitchensurfing. Their stories underline the volatility of working in the gig economy: the autonomy these young workers expected has been usurped by the need to maintain algorithm-approved acceptance and response rates. The sharing economy upends generations of workplace protections such as worker safety; workplace protections around discrimination and sexual harassment; the right to unionize; and the right to redress for injuries. Discerning three types of gig economy workers—Success Stories, who have used the gig economy to create the life they want; Strugglers, who can't make ends meet; and Strivers, who have stable jobs and use the sharing economy for extra cash—Ravenelle examines the costs, benefits, and societal impact of this new economic movement. Poignant and evocative, Hustle and Gig exposes how the gig economy is the millennial's version of minimum-wage precarious work.
Praise For Hustle and Gig: Struggling and Surviving in the Sharing Economy…
"The book is at its best and most useful when detailing—often in workers own words—the litany of injustices, indignities, and unsafe conditions visited upon the people working for these services. Such issues are not surprising and speak directly to why the Labor Department's directive is so problematic. Nevertheless, the sheer volume of workplace injuries, unreachable employers, legally tenuous situations like drug delivery and credit card scams, denied benefits, endemic sexual harassment, low wages, and constant stress about whether one will get hired enough on a day-to-day level is striking."
— New Labor Forum
"
Hustle and Gig
is a timely and important addition to the nascent but rapidly expanding literature of this new economic movement. It vividly bring to life the realities that many gig workers face today as they move forward to the past. The reality that many face challenges not unlike their peers from over a century ago—piecemeal work, low wages, and lacking basic protections.
Hustle and Gig 
would be of particular interest to scholars studying non-standard work arrangements and employment relations, but also to scholars with a general interest in work and occupations or labor history."
— Social Forces
"Ravenelle's account of the state of gig work in Hustle and Gig is a great starting point: both the breadth of sectors covered and the depth of the ethnographic material are fantastic and add important detail to the techlash movement that is so often empirically weak."
— LSE Review of Books
"
Hustle and Gig
is a refreshing and important statement about the structural changes evident in contemporary capitalism. The book is written with style and verve, yet is accessible and even ideal for assignment in classes on work, organizations, and social inequality. It is perhaps the most thoughtful and provocative depiction of the structural changes impinging on work as the sharing economy gains force. It deserves a wide audience."  
— Sociological Forum
"Hustle and Gig is a timely contribution to conversations about the kinds of working conditions that we, as a society, are—and are not—building for the future. . . .[it] reminds readers that decent jobs are not something that exist a priori. They must be made."
— American Journal of Sociology
University of California Press, 9780520300569, 288pp.
Publication Date: March 12, 2019
About the Author
Alexandrea J. Ravenelle is Assistant Professor of Sociology at Mercy College and Visiting Scholar at the Institute for Public Knowledge at NYU.