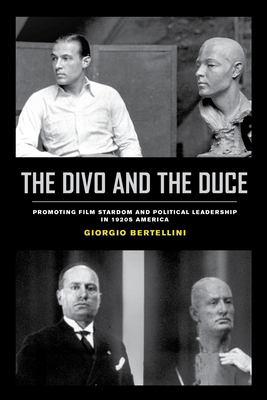 The Divo and the Duce (Paperback)
Promoting Film Stardom and Political Leadership in 1920s America (Cinema Cultures in Contact #1)
University of California Press, 9780520301368, 352pp.
Publication Date: January 15, 2019
* Individual store prices may vary.
Description
A free ebook version of this title is available through Luminos, University of California Press's Open Access publishing program. Visit 
www.luminosoa.org
 to learn more.
In the post–World War I American climate of isolationism, nativism, democratic expansion of civic rights, and consumerism, Italian-born star Rodolfo Valentino and Italy's dictator Benito Mussolini became surprising paragons of authoritarian male power and mass appeal. Drawing on extensive archival research in the United States and Italy, Giorgio Bertellini's work shows how their popularity, both political and erotic, largely depended on the efforts of public opinion managers, including publicists, journalists, and even ambassadors. Beyond the democratic celebrations of the Jazz Age, the promotion of their charismatic masculinity through spectacle and press coverage inaugurated the now-familiar convergence of popular celebrity and political authority.
This is the first volume in the new 
Cinema Cultures in Contact
 series, coedited by Giorgio Bertellini, Richard Abel, and Matthew Solomon.
This book is freely available in an open access edition thanks to TOME (Toward an Open Monograph Ecosystem)—a collaboration of the Association of American Universities, the Association of University Presses, and the Association of Research Libraries. Learn more at the TOME website, available at: 
openmonographs.org
.  
About the Author
Giorgio Bertellini is Professor of Film and Media History at the University of Michigan. He is the author and editor of the award-winning volumes Italy in Early American Cinema: Race, Landscape, and the Picturesque and Italian Silent Cinema: A Reader.
Praise For The Divo and the Duce: Promoting Film Stardom and Political Leadership in 1920s America (Cinema Cultures in Contact #1)…
"There have been many studies of Benito Mussolini and Rudolph Valentino but The Divo and the Duce brings them together as celebrities whose seductive masculinity made a huge impact in the United States as well as in Italy. It brings together cinema studies and politics with particular attention to the role of spin doctors, public relations people, biographers, newspapers and radio."
— The Sydney Morning Herald
"The result of more than a decade of extensive archival research by Bertellini . . . This meticulously researched study is recommended for specialized film and history collections."
— CHOICE