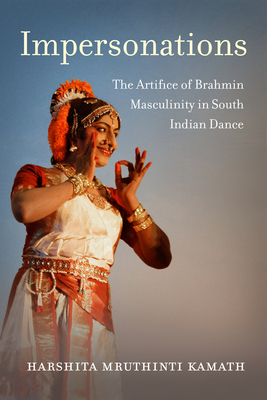 Impersonations
The Artifice of Brahmin Masculinity in South Indian Dance
Paperback

* Individual store prices may vary.
Description
Learn more at www.luminosoa.org.

Impersonations: The Artifice of Brahmin Masculinity in South Indian Dance centers on an insular community of Smarta Brahmin men from the Kuchipudi village in Telugu-speaking South India who are required to don stri-vesam (woman's guise) and impersonate female characters from Hindu religious narratives. Impersonation is not simply a gender performance circumscribed to the Kuchipudi stage, but a practice of power that enables the construction of hegemonic Brahmin masculinity in everyday village life. However, the power of the Brahmin male body in stri-vesam is highly contingent, particularly on account of the expansion of Kuchipudi in the latter half of the twentieth century from a localized village performance to a transnational Indian dance form. This book analyzes the practice of impersonation across a series of boundaries—village to urban, Brahmin to non-Brahmin, hegemonic to non-normative—to explore the artifice of Brahmin masculinity in contemporary South Indian dance. 
University of California Press, 9780520301665, 215pp.
Publication Date: June 25, 2019
About the Author
Harshita Mruthinti Kamath is Visweswara Rao and Sita Koppaka Assistant Professor in Telugu Culture, Literature and History at Emory University.