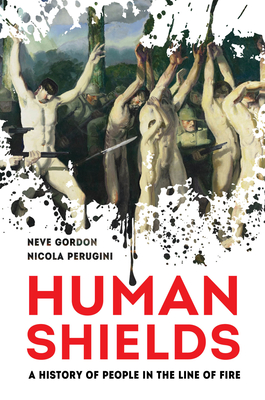 Human Shields
A History of People in the Line of Fire
Hardcover

* Individual store prices may vary.
Description
A chilling global history of the human shield phenomenon.

From Syrian civilians locked in iron cages to veterans joining peaceful indigenous water protectors at the Standing Rock Sioux Reservation, from Sri Lanka to Iraq and from Yemen to the United States, human beings have been used as shields for protection, coercion, or deterrence. Over the past decade, human shields have also appeared with increasing frequency in antinuclear struggles, civil and environmental protests, and even computer games. The phenomenon, however, is by no means a new one.
 
Describing the use of human shields in key historical and contemporary moments across the globe, Neve Gordon and Nicola Perugini demonstrate how the increasing weaponization of human beings has made the position of civilians trapped in theaters of violence more precarious and their lives more expendable. They show how the law facilitates the use of lethal violence against vulnerable people while portraying it as humane, but they also reveal how people can and do use their own vulnerability to resist violence and denounce forms of dehumanization. Ultimately, Human Shields unsettles our common ethical assumptions about violence and the law and urges us to imagine entirely new forms of humane politics.

 
Praise For Human Shields: A History of People in the Line of Fire…
"Thoughtful and elegant. . . . Were the book to simply chart the use of human shields in warfare and situations of political upheaval, it would be a valuable enough contribution to the literature – Gordon and Perugini write in a lucid and persuasive style, employing still photographs effectively throughout the text to illustrate their thesis. What elevates the book is its theoretical framework of inclusion and exclusion –through this prism, the book is able to examine and interrogate a number of fascinating theoretical and practical questions, using unusual and innovative examples to further explore their thesis."
— Journal of the History of International Law
"Gives the issue of human shields the roots of the term and re-narrates their manifestation in major historical moments and contemporary sites."  
— Al-Akhbar
"A startling new take on the history of war, morality, and law"
— Humanity
"A thoroughly engaging text, a tour de force that will stand the test of time and ought to be a mainstay for those with a healthy dose of scepticism when it comes to appraising international law's emancipatory potential. . . . A model on how academic work should be written and conceived of moving forward."
— Journal of Holy Land and Palestine Studies
"A wide-ranging, accessible book that focuses on the ethical and legal dilemmas connected with a practice that blurs the distinction between combatants and noncombatants. . . .  An invaluable tool for courses on conflict and human rights, especially because it provides relevant evidence and arguments, without offering an easy resolution to the dilemmas posed."
— CHOICE
"The human shield faces us; we are its audience. The key contribution of this timely book is to elucidate that speech acts about human shielding authorize some forms of action and enable particular constellations of actors while delegitimizing and disabling others."
— Los Angeles Review of Books
"Through analysing the contradictions, evolutions, and the legal ambiguity surrounding human shields, they contend convincingly that 'humanity' is not a politically neutral category."
— Political Studies Review
"Fascinating . . . . Although
 Human Shields
 is rich with historical texture, it does more than simply document instances where these shields have been deployed. The book makes an important contribution to debates about how international humanitarian law works to enable the violence inflicted on the battlefield by legitimizing the harm caused to civilians. . . . Like most great books, 
Human Shields
 provokes more questions than it resolves."
— Perspectives on Politics
"Outstanding and thought-provoking. . . .  Exposes, at times hauntingly, the frailty of the human condition and the precarity of life."
— H-Diplo
"Contributes to public education from the evolving, global experience with human shields, which now include civilian movements to protest government actions."
— Quaker Universalist Voice
"A compelling, thoughtful, and ambitious book, which successfully takes a novel – if troubling– micro-issue of conflict and explores it through a macro multi-disciplinary lens."
— Peace & Change
"Excellent analysis of shielding in international humanitarian law. . . . While by far the best analysis of the subject so far, their book should inspire other scholars to think even more deeply about the humanization of human shielding at a time of global fracture."
— International Politics Reviews
University of California Press, 9780520301849, 312pp.
Publication Date: August 25, 2020
About the Author
Neve Gordon is Professor of Human Rights and the Politics of Humanitarian Law at Queen Mary University of London. He is the author of Israel's Occupation and coauthor of The Human Right to Dominate.
 
Nicola Perugini is Senior Lecturer in International Relations at the University of Edinburgh. He is the coauthor of The Human Right to Dominate.