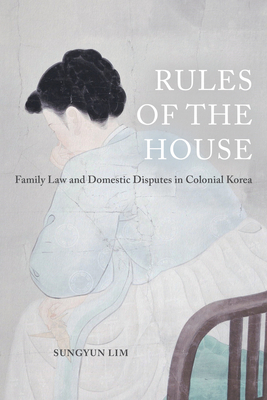 Rules of the House
Family Law and Domestic Disputes in Colonial Korea (Global Korea #2)
Paperback

* Individual store prices may vary.
Description
A free ebook version of this title is available through Luminos, University of California Press's Open Access publishing program for monographs. Visit www.luminosoa.org to learn more.

Rules of the House offers a dynamic revisionist account of the Japanese colonial rule of Korea (1910–1945) by examining the roles of women in the civil courts. Challenging the dominant view that women were victimized by the Japanese family laws and its patriarchal biases, Sungyun Lim argues that Korean women had to struggle equally against Korean patriarchal interests. Moreover, women were not passive victims; instead, they proactively struggled to expand their rights by participating in the Japanese colonial legal system. In turn, the Japanese doctrine of promoting progressive legal rights would prove advantageous to them. Following female plaintiffs and their civil disputes from the precolonial Choson dynasty through colonial times and into postcolonial reforms, this book presents a new and groundbreaking story about Korean women's legal struggles, revealing their surprising collaborative relationship with the colonial state. 
Praise For Rules of the House: Family Law and Domestic Disputes in Colonial Korea (Global Korea #2)…
"[An] important contribution to our understanding of Japan's assimilation policy in Korea."
— Journal of Japanese Studies

"[Lim writes] eloquently about the gendering of society and. . . . accomplish[es] what any scholarly book should do—that is, become the means to investigate, interrogate, and gain new perspectives . . . "
— Cross-Currents

"Lim's clear and persuasive presentation of her findings and of its scholarly significance . . . makes this book a valuable contribution to the historiography of Korea. Its straightforward, accessible, and often compelling narrative also renders it attractive for adoption in both undergraduate and graduate courses."
— Journal of Asian Studies
University of California Press, 9780520302525, 188pp.
Publication Date: November 13, 2018
About the Author
Sungyun Lim is Assistant Professor of Modern Korean and Japanese History at the University of Colorado Boulder.