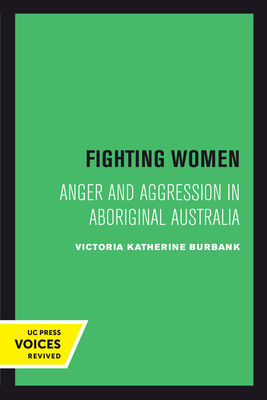 Fighting Women (Paperback)
Anger and Aggression in Aboriginal Australia
University of California Press, 9780520302761, 268pp.
Publication Date: July 10, 2018
* Individual store prices may vary.
Description
Fighting is common among contemporary Aboriginal women in Mangrove, Australia. Women fight with men and with other women—often with "the other woman." Victoria Burbank's depiction of these women offers a powerful new perspective that can be applied to domestic violence in Western settings.
Noting that Aboriginal women not only talk without shame about their angry emotions but also express them in acts of aggression and defense, Burbank emphasizes the positive social and cultural implications of women's refusal to be victims. She explores questions of hierarchy and the expression of emotions, as well as women's roles in domestic violence. Human aggression can be experienced and expressed in different ways, she says, and is not necessarily always "wrong."
Fighting Women
is relevant to discussions of aggression and gender relations in addition to debates on the victimization of women and children everywhere.
This title is part of UC Press's Voices Revived program, which commemorates University of California Press's mission to seek out and cultivate the brightest minds and give them voice, reach, and impact. Drawing on a backlist dating to 1893, Voices Revived makes high-quality, peer-reviewed scholarship accessible once again using print-on-demand technology. This title was originally published in 1994.
About the Author
Victoria Katherine Burbank is Senior Honorary Research Fellow in Anthropology and Sociology at the University of Western Australia.