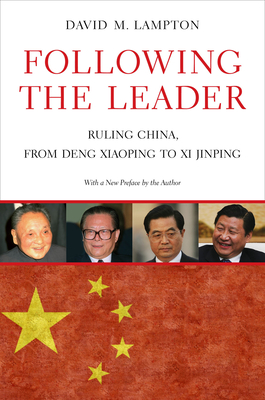 Following the Leader
Ruling China, from Deng Xiaoping to Xi Jinping
Paperback

* Individual store prices may vary.
Description
With unique access to Chinese leaders at all levels of the party and government, best-selling author David M. Lampton tells the story of China's political elites from their own perspectives. Based on over five hundred interviews, Following the Leader offers a rare glimpse into how the attitudes and ideas of those at the top have evolved over the past four decades. Here China's rulers explain their strategies and ideas for moving the nation forward, share their reflections on matters of leadership and policy, and discuss the challenges that keep them awake at night.

As the Chinese Communist Party installs its new president, Xi Jinping, for a presumably ten-year term, questions abound. How will the country move forward as its explosive rate of economic growth begins to slow? How does it plan to deal with domestic and international calls for political reform and to cope with an aging population, not to mention an increasingly fragmented bureaucracy and society? In this insightful book we learn how China's leaders see the nation's political future, as well as about its global strategic influence.
Praise For Following the Leader: Ruling China, from Deng Xiaoping to Xi Jinping…
"Provides an exceptional explanation of the astounding changes that China has experienced, especially since the late 1970s, and offers a sober assessment of the challenges the nation currently faces. . . . This important work on understanding contemporary China is essential for all China watchers. Its concise and lucid treatment of the topic will serve as valuable reading to experts and novices alike."
— Library Journal

"Beautifully written, and dotted with poetic passages unexpected in a book of political analysis."
— Pacific Affairs

"An authoritative depiction of how China's leaders view their domestic and international environments . . . It is all too rare to have a single book address issues of elite politics, domestic governance, civil-military relations, and foreign policy, but Lampton does so effectively in this book."
— Political Science Quarterly

"A cogent, in-depth analysis."
— Choice

"Insightful analysis . . . . One of the most balanced scholarly accounts of China's political development."
— Journal of Chinese Political Science
University of California Press, 9780520303478, 320pp.
Publication Date: April 9, 2019
About the Author
David M. Lampton is Oksenberg-Rohlen Fellow at The Freeman Spogli Institute for International Studies at Stanford University. He is affiliated with the Walter H. Shorenstein Asia-Pacific Research Center. He also is Professor Emeritus and former director of China Studies at Johns Hopkins University's School of Advanced International Studies.