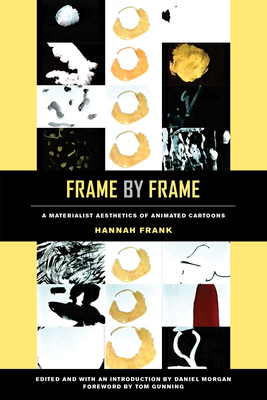 Frame by Frame
A Materialist Aesthetics of Animated Cartoons
Paperback

* Individual store prices may vary.
Description
At publication date, a free ebook version of this title will be available through Luminos, University of California Press's Open Access publishing program. Visit www.luminosoa.org to learn more.

In this beautifully written and deeply researched study, Hannah Frank provides an original way to understand American animated cartoons from the Golden Age of animation (1920–1960). In the pre-digital age of the twentieth century, the making of cartoons was mechanized and standardized: thousands of drawings were inked and painted onto individual transparent celluloid sheets (called "cels") and then photographed in succession, a labor-intensive process that was divided across scores of artists and technicians. In order to see the art, labor, and technology of cel animation, Frank slows cartoons down to look frame by frame, finding hitherto unseen aspects of the animated image. What emerges is both a methodology and a highly original account of an art formed on the assembly line.
Praise For Frame by Frame: A Materialist Aesthetics of Animated Cartoons…
"It's not every day that a posthumously published Ph.D. thesis nudges the world of cinema studies off its axis. All hail
Frame by Frame: A Materialist Aesthetics of Animated Cartoons
."
— Artforum
"After reading
Frame by Frame
, it's difficult to naively or passively watch a classic-era cartoon again, considering the erased labor that was alienated and mechanized, yet individuated—ultimately producing an artwork. Frank impressively ties together the imaginative pleasures of close analysis to rethink the trajectory of animation as more than a 'history of drudgery.'"
— Film Comment
"Frank moves with a shocking assuredness of purpose through all possible configurations of a process she has sharpened and honed for purpose. . . . [a] wry, effortless, sublime work of prose . . . It is hard not to fantasize about future volumes of Frankian prose while reading
Frame by Frame
, so commanding and captivating a stylist and a critical imagination is she. Her hideously premature death highlights the book's only retroactive flaw: that it is too short that it offers itself only as the first volume in a great, ongoing work spanning a lifetime. A great mind and writer, Frank could and should have continued to write, producing work as virtuosic as this particular volume but on an industrial scale to match her favorite animators."
— Cineaste
"This work, Frame by Frame, as it is, is a masterwork of ingenuity that pulls together studies on technics, labor, and aesthetics. It should be read by anyone working in the history of animation, by scholars in film studies and for many outside those fields with their own critical eyestrain upon visual studies, sensation, and the role of the scholar in stating their position within activist research."
— Historical Journal of Film, Radio and Television
University of California Press, 9780520303621, 256pp.
Publication Date: May 7, 2019
About the Author
Hannah Frank (1984–2017) was Assistant Professor of Film Studies at the University of North Carolina Wilmington. Her work has been published in Critical Quarterly and Animation: An Interdisciplinary Journal, and she contributed a chapter to A World Redrawn: Eisenstein and Brecht in Hollywood.

Daniel Morgan is Associate Professor of Cinema and Media Studies at the University of Chicago and is author of Late Godard and the Possibilities of Cinema.