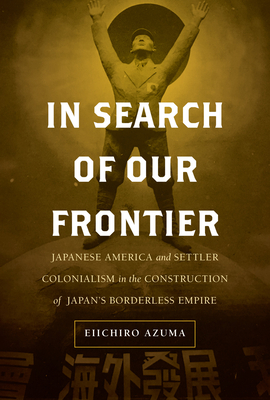 In Search of Our Frontier
Japanese America and Settler Colonialism in the Construction of Japan's Borderless Empire (Asia Pacific Modern #17)
Hardcover

* Individual store prices may vary.
Description
In Search of Our Frontier explores the complex transnational history of Japanese immigrant settler colonialism, which linked Japanese America with Japan's colonial empire through the exchange of migrant bodies, expansionist ideas, colonial expertise, and capital in the Asia-Pacific basin before World War II. The trajectories of Japanese transpacific migrants exemplified a prevalent national structure of thought and practice that not only functioned to shore up the backbone of Japan's empire building but also promoted the borderless quest for Japanese overseas development. Eiichiro Azuma offers new interpretive perspectives that will allow readers to understand Japanese settler colonialism's capacity to operate outside the aegis of the home empire.
 
Praise For In Search of Our Frontier: Japanese America and Settler Colonialism in the Construction of Japan's Borderless Empire (Asia Pacific Modern #17)…
"One of the most ambitious and expansive studies yet undertaken in the field of Japanese migration history. . . . Azuma deftly unravels the complex and tangled history of Japanese overseas migration."
— Ethnic and Racial Studies
"A landmark study that should definitively reshape research and teaching agendas for some time to come."
— Journal of Japanese Studies
"This is a ground-breaking thesis, to date the boldest expression in English of ideas that have been percolating for more than a decade in research projects in Japan and elsewhere. Masterfully researched and boldly conceived,
In Search of our Frontier
should begin to redefine the terms of Japanese imperialism for years to come."
— H-Soz-Kult
"An important and provocative contribution to the fields of Japanese and Japanese American history, as well as the global history of modern imperialism. Azuma has offered a new way to think about Japan's empire, showing us how many of the institutions and societies of the formal empire had deep ties to the informal empire of Japanese America."
— H-Net
"Azuma provides a valuable glimpse into a certain daring and confidence that accompanied Japan's emergence as a modern nation-state."
— Monumenta Nipponica
"Azuma has written a compelling new master narrative for Japan's rise as a Pacific power . . . bringing East Asian Area Studies into direct engagement with the Ethnic History of Japanese America, makes In Search of Frontiers an instant classic."
— Journal of American- East Asian Relations
University of California Press, 9780520304383, 368pp.
Publication Date: October 8, 2019
About the Author
Eiichiro Azuma is Alan Charles Kors Term Chair Associate Professor of History and Asian American Studies at the University of Pennsylvania. He is also the author of Between Two Empires: Race, History, and Transnationalism in Japanese America and a coeditor of The Oxford Handbook of Asian American History.