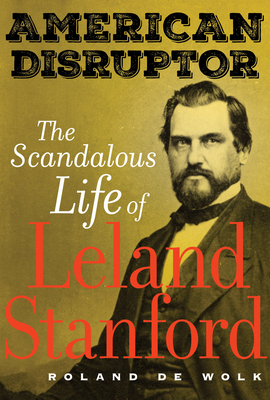 American Disruptor
The Scandalous Life of Leland Stanford
Hardcover

* Individual store prices may vary.
Other Editions of This Title:
Paperback (4/13/2021)
Description
The rags to riches story of Silicon Valley's original disruptor.

American Disruptor is the untold story of Leland Stanford – from his birth in a backwoods bar to the founding of the world-class university that became and remains the nucleus of Silicon Valley. The life of this robber baron, politician, and historic influencer is the astonishing tale of how one supremely ambitious man became this country's original "disruptor" – reshaping industry and engineering one of the greatest raids on the public treasury for America's transcontinental railroad, all while living more opulently than maharajas, kings, and emperors.

It is also the saga of how Stanford, once a serial failure, overcame all obstacles to become one of America's most powerful and wealthiest men, using his high elective office to enrich himself before losing the one thing that mattered most to him – his only child and son. Scandal and intrigue would follow Stanford through his life, and even after his death, when his widow was murdered in a Honolulu hotel – a crime quickly covered up by the almost stillborn university she had saved. Richly detailed and deeply researched, American Disruptor restores Leland Stanford's rightful place as a revolutionary force and architect of modern America.
Praise For American Disruptor: The Scandalous Life of Leland Stanford…
"Readable and entertaining. . . . De Wolk not only introduces a much more believable Stanford, warts and all, but also does a great job of showing how his legacy and reputation was managed, massaged and sanitized after his death."
— True West

"American Disruptor provides a dense but swift-moving primer on Stanford's rise from tavern owner's son to tycoon." 
— Stanford Magazine

"The original tech bro? Leland Stanford, co-founder of Stanford University, emerges as a spiritual forefather of Silicon Valley-style monopolism, exploitation and conflicts of interest in this dramatic new biography by Bay Area journalism professor Roland De Wolk."
— KQED Arts

"A superb new account of Stanford's 'preposterous career and life.'"
— Berkeleyside

"Stanford was an uneducated anti-intellectual, yet defined himself as "a technologist" and wanted Stanford University to thrive as a trade school. He played a major role in vaulting America into peak ascendancy, yet had few qualms bilking taxpayers out of millions of dollars in the process (before going on to be a U.S. Senator). And those are just a few of the threads that De Wolk pulls to weave an engaging and highly relevant portrait of a profoundly influential, turbulent and, yes—"scandalous" life."
— Six Fifty

"Stanford's warts have long been on display, and De Wolk doesn't avoid them, but the details the author has unearthed reveal a far more complex figure, one who clearly loved his wife and son. The author sums him up as an ordinary man who found himself in extraordinary circumstances and contends that history 'shows that the business Stanford pioneered was the foundation not only for Silicon Valley but also for the modern corporation itself.'"
— HistoryNet
University of California Press, 9780520305472, 344pp.
Publication Date: November 5, 2019
About the Author
Roland De Wolk is an investigative reporter in print, broadcast, and online journalism. He is a historian, university adjunct, and, of course, an author.