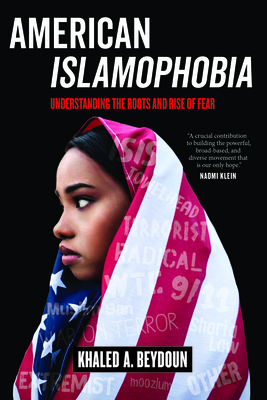 American Islamophobia
Understanding the Roots and Rise of Fear
Paperback

* Individual store prices may vary.
Other Editions of This Title:
Digital Audiobook (7/17/2018)
Hardcover (4/3/2018)
Description
On Forbes list of "10 Books To Help You Foster A More Diverse And Inclusive Workplace"
How law, policy, and official state rhetoric have fueled the resurgence of Islamophobia—with a call to action on how to combat it.

"I remember the four words that repeatedly scrolled across my mind after the first plane crashed into the World Trade Center in New York City. 'Please don't be Muslims, please don't be Muslims.' The four words I whispered to myself on 9/11 reverberated through the mind of every Muslim American that day and every day after.… Our fear, and the collective breath or brace for the hateful backlash that ensued, symbolize the existential tightrope that defines Muslim American identity today."
 
The term "Islamophobia" may be fairly new, but irrational fear and hatred of Islam and Muslims is anything but. Though many speak of Islamophobia's roots in racism, have we considered how anti-Muslim rhetoric is rooted in our legal system?
 
Using his unique lens as a critical race theorist and law professor, Khaled A. Beydoun captures the many ways in which law, policy, and official state rhetoric have fueled the frightening resurgence of Islamophobia in the United States. Beydoun charts its long and terrible history, from the plight of enslaved African Muslims in the antebellum South and the laws prohibiting Muslim immigrants from becoming citizens to the ways the war on terror assigns blame for any terrorist act to Islam and the myriad trials Muslim Americans face in the Trump era. He passionately argues that by failing to frame Islamophobia as a system of bigotry endorsed and emboldened by law and carried out by government actors, U.S. society ignores the injury it inflicts on both Muslims and non-Muslims. Through the stories of Muslim Americans who have experienced Islamophobia across various racial, ethnic, and socioeconomic lines, Beydoun shares how U.S. laws shatter lives, whether directly or inadvertently. And with an eye toward benefiting society as a whole, he recommends ways for Muslim Americans and their allies to build coalitions with other groups. Like no book before it, American Islamophobia offers a robust and genuine portrait of Muslim America then and now.
Praise For American Islamophobia: Understanding the Roots and Rise of Fear…
"Much like other notable works on Islamophobia by scholars like Erik Love and Moustafa Bayoumi, Beydoun looks at the scope and impact of domestic "war on terror" legislation in how it racialized Muslims and transformed everyday life within Muslim communities. What he adds with 'American Islamophobia' is the terminology and language to describe the demonization of Muslims from the state — and the necessary legal and historical context to understand the depth of structural Islamophobia and the tools needed to dismantle it."
— The Intercept

"Beydoun's book, American Islamophobia, provides urgent and compelling context to a global phenomena that has mushroomed on our shores."
— Scoop

"[Beydoun's] ability to intersperse complex academic argument with engaging stories and anecdotes ensures that not only does his writing draw you in, but also one never loses sight of the human stories of insecurity, suffering and loss that are at the book's heart."
— Critical Studies on Terrorism
University of California Press, 9780520305533, 264pp.
Publication Date: May 14, 2019
About the Author
Khaled A. Beydoun is Associate Professor of Law at the University of Arkansas School of Law and Senior Affiliated Faculty at the University of California–Berkeley Islamophobia Research and Documentation Project. A critical race theorist, he examines Islamophobia, the war on terror, and the salience of race and racism in American law. His scholarship has appeared in top law journals, including the California Law Review, Columbia Law Review, and Harvard Civil Rights–Civil Liberties Law Review. In addition, he is an active public intellectual and advocate whose commentary has been featured in the New York Times and Washington Post as well as on the BBC, Al Jazeera English, ESPN, and more. He is a native of Detroit and has been named the 2017 American-Arab Anti-Discrimination Committee Advocate of the Year and the Arab American Association of New York's 2017 Community Champion of the Year.