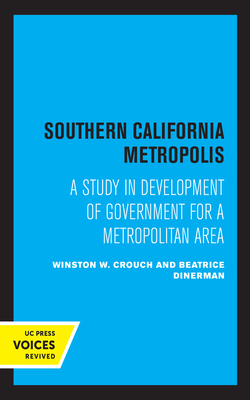 Southern California Metropolis
A Study in Development of Government for a Metropolitan Area
Paperback

* Individual store prices may vary.
Other Editions of This Title:
Hardcover (8/27/2021)
Description
The concept of the metropolitan area, as best exemplified by Los Angeles, has highlighted two contradictory characteristics of the current urban scene: the dispersion of political power among a number of centers, and the presence of issues and problems whose impact transcends the jurisdiction of any one local government. In this book the author have focused their attention of the process by which organized groups have sought to identify public issues and to reach decision on them within one of the most rapidly developing and most complex metropolitan areas of the United States: Los Angeles. Beginning with a discussion of the setting and framework of the Los Angeles metropolitan area, the authors attempt to clarify the  nature of the legal, political, social, and economic forces tha have shaped the present system. The second part of this work is concerned with the contenders for leadership within the area: the central city, the urban county, and the suburbs. On the basis of the collected information, the authors next pose the hypothesis that democratic ideology and group interests have combined to produce competing power centers from which groups operate while at the same time lacking sufficient resources to dominate decision making. In the final section of a number of possible alternatives that might produce decision on area-wide issues are examined, and suggestions for bringing together the various political groupings are given. Research for this work was carried out under a grant from the John Randolph Haynes and Dora Haynes Foundation. This title is part of UC Press's Voices Revived program, which commemorates University of California Press's mission to seek out and cultivate the brightest minds and give them voice, reach, and impact. Drawing on a backlist dating to 1893, Voices Revived makes high-quality, peer-reviewed scholarship accessible once again using print-on-demand technology. This title was originally published in 1963.
University of California Press, 9780520306479, 462pp.
Publication Date: August 27, 2021
About the Author
Winston W. Crouch was Professor of Political Science, Emeritus at the University of California, Los Angeles. At the time of original publication, Beatrice Dinerman was Project Director of the Welfare Planning Council in Los Angeles.