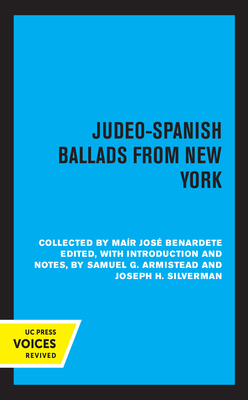 Judeo-Spanish Ballads from New York
Collected by Mair Jose Bernardete
Paperback

* Individual store prices may vary.
Other Editions of This Title:
Hardcover (1/8/2021)
Hardcover (2/9/1982)
Description
In New York City during the winter of 1922 and the spring of 1923, Mair Jose Benardete recorded the texts of the thirty-nine traditional ballads published in this volume. His collection, the beginning of Judeo-Spanish ballad research in America, was assembled when the oral tradition was still rich and vigorous among immigrants to New York from the Sephardic settlements of the Eastern Mediterranean and North Africa. Among the ballads are a number of rare text types, some never again recorded in the Sephardic communities of the United States, In addition, many of the texts provide new insights into the origins of the thematic traditions they represent.
Samuel G. Armistead and Joseph H. Silverman have edited the ballads collected by Benardete, offering an English abstract and exhaustive bibliography for each ballad. In addition to placing each ballad within the context of its Sephardic variants, the bibliographies refer to the most important collections in the modern Castilian, Portuguese, Catalan, and Hispano-American traditions, to earlier (fifteenth- to seventeenth-century) evidence, and to any known analogs in other European traditions. The volume also includes a general bibliography, a thematic classification of the ballads, several indexes, and a glossary of exotic lexical elements.
In an introduction, professors Armistead and Silverman present a documented survey of Judeo-Spanish ballad scholarship with particular attention to fieldwork in teh United States and elsewhere. Benardete himself attributed the decline of ballad singing among the Sephardim to a growing preference for phonographic recordings over traditional family singers. The need for further field-work increases as "Sephardic folkspeech and folklore retreat before the irresistible onslaught of the English language and modern American mass-media culture" (from the Introduction).
This title is part of UC Press's Voices Revived program, which commemorates University of California Press's mission to seek out and cultivate the brightest minds and give them voice, reach, and impact. Drawing on a backlist dating to 1893, Voices Revived makes high-quality, peer-reviewed scholarship accessible once again using print-on-demand technology. This title was originally published in 1981.
University of California Press, 9780520306486, 160pp.
Publication Date: January 8, 2021
About the Author
Samuel G. Armistead was Professor of Romance Languages at the University of Pennsylvania. Joseph H. Silverman was Provost and Professor of Spanish Literature at Adlai E. Stevenson College, University of California, Santa Cruz.