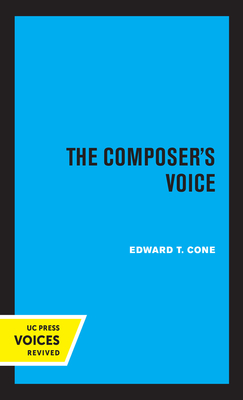 The Composer's Voice (Ernest Bloch Lectures #3)
Paperback

* Individual store prices may vary.
Other Editions of This Title:
Hardcover (1/8/2021)
Description
Music, we are often told, is a language. But if music is a language, then who is speaking? The Composer's Voice tries to answer this obvious but infrequently raised question. In so doing, it puts forward a dramatistic theory of musical expression, based on the view that every composition is a symbolic utterance involving a fundamental act of impersonation. The voice we hear is not that of the composer himself, but of a persona--a musical projection of his consciousness that experiences and communicates the events of the composition.
Developing his argument by reference to numerous examples ina wide variety of styles, Mr. Cone moves from song and opera through program music to absolute instrumental music. In particular, he discusses the implications of his theory for performance. According to the dramatistic view, not only every singer but every instrumentalist as well becomes a kind of actor, assuming a role that functions both autonomously and as a component of the total musical persona. In his analysis of the problems inherent in this dual nature of the performer's job, Mr. Cone offers guidance that will prove of practical value to every performing musician.
He has much to say to the listener as well. He recommends an imaginative participation in the component roles of musical work, leading to a sense of identification with the persona itself, as the path to complete musical understanding. And this approach is shown to be relevant to a number of specialized kids of listening as well--those applicable to analysis, historical scholarship, and criticism. The dance, too, is shown to depend on similar concepts.
Although The Composer's Voice involves an investigation of how music functions as a form of communication, it is not primarily concerned with determine, or interpreting, the "content" of the message. A final chapter, however, puts forward a tentative explanation of musical "meaning" based on an interpretation of the art as a coalescence of symbolic utterance and symbolic gesture. While not essential to the main lines of the argument, it suggests interesting possibilities for further development of the dramatistic theory.
This title is part of UC Press's Voices Revived program, which commemorates University of California Press's mission to seek out and cultivate the brightest minds and give them voice, reach, and impact. Drawing on a backlist dating to 1893, Voices Revived makes high-quality, peer-reviewed scholarship accessible once again using print-on-demand technology. This title was originally published in 1974.
University of California Press, 9780520306509, 200pp.
Publication Date: January 8, 2021
About the Author
Edward T. Cone was Professor of Music at Princeton University.