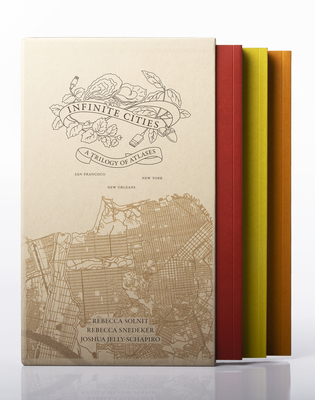 Infinite Cities
A Trilogy of Atlases—San Francisco, New Orleans, New York
Paperback

* Individual store prices may vary.
Description
"The maps themselves are things of beauty."—The New York Times
Explore the hidden histories of San Francisco, New Orleans, and New York with this brilliant reinvention of the traditional atlas. From Rebecca Solnit, Rebecca Snedeker, and Joshua Jelly-Schapiro.  
In the past decade, Rebecca Solnit—aided by local writers, artists, historians, urbanists, ethnographers, and cartographers—has compiled three stunning atlases that have radically changed the way we think about place. Each atlas provides a vivid, complex look at the multi-faceted nature of a city as experienced by its different inhabitants, replete with the celebrations and contradictions that make up urban life.  
This three-volume paperback set contains:
The original, gorgeously designed atlases—Infinite City: A San Francisco Atlas; Unfathomable City: A New Orleans Atlas; and Nonstop Metropolis: A New York City Atlas 
Three new and updated, full-color, fold-out posters for each city, including the popular "City of Women" map
A new and thoughtful essay by Rebecca Solnit reflecting on the project ten years after the publication of the first atlas
A stunning collection, this boxed set is a perfect treasury of imagination and insight, a rich people's history of these infinite cities.  
Praise For Infinite Cities: A Trilogy of Atlases—San Francisco, New Orleans, New York…
"In each volume, historical, cultural and biographical essays are interspersed with photographs and maps that inform and revise our understanding of America's most storied places."
— Washington Post

"Solnit's [. . . , Snedecker's, and Jelly-Schapiro's] atlases masterfully chart great leaps of technology that have built our contemporary cities: the great work in filling shorelines, of building bridges, of creating ingenious public transit. But they also display the cost. Solnit's project responds to the subjugating gaze of the traditional atlas by portraying her city through populist, communitarian stories."
— America: The Jesuit Review
University of California Press, 9780520314290, 574pp.
Publication Date: September 3, 2019
About the Author
Rebecca Solnit is a writer, historian, and activist. She is the author of twenty books on feminism, western and indigenous history, popular power, social change and insurrection, wandering and walking, and hope and disaster. These include the recent Men Explain Things to Me and The Mother of All Questions. Joshua Jelly-Schapiro is a geographer, writer, and regular contributor to The New York Review of Books. He is the author of Island People: The Caribbean and the World. Rebecca Snedeker is an Emmy Award winning documentary filmmaker and writer whose work supports human rights, creative expression, and her native city, New Orleans.