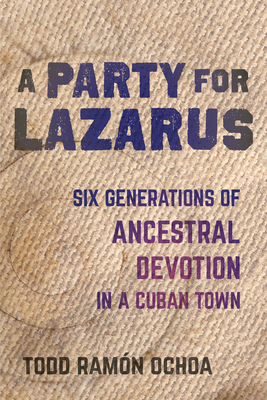 A Party for Lazarus (Hardcover)
Six Generations of Ancestral Devotion in a Cuban Town
University of California Press, 9780520315976, 336pp.
Publication Date: May 19, 2020
Other Editions of This Title:
Paperback (5/19/2020)
* Individual store prices may vary.
Description
A Party for Lazarus is the story of a Cuban family, six generations removed from slavery, struggling to honor their ancestors amid changing fortunes and a crumbling state. It is an intimate portrait of an intergenerational family saga involving the future of an annual feast to celebrate ancestors and orisás—the life-changing spirits at the center of Black Atlantic religious life. Based on twenty years of fieldwork, Todd Ramón Ochoa's masterful ethnography shows how orisá praise and everyday life have changed in revolutionary Cuba over two decades of economic hardship.
About the Author
Todd Ramón Ochoa is a cultural anthropologist and Associate Professor in the Department of Religious Studies at the University of North Carolina, Chapel Hill. He is the author of Society of the Dead: Quita Manaquita and Palo Praise in Cuba.