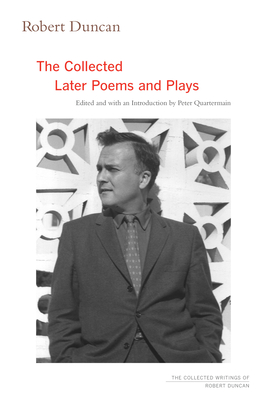 Robert Duncan
The Collected Later Poems and Plays (The Collected Writings of Robert Duncan #3)
Paperback

* Individual store prices may vary.
Other Editions of This Title:
Paperback (10/22/2019)
Paperback (10/22/2019)
Hardcover (1/27/2014)
Hardcover (1/4/2014)
Description

Profoundly original yet insistent on the derivative quality of his work, transgressive yet affirmative of tradition, Robert Duncan (1919-1988) was a generative force among American poets, and his poetry and poetics establish him as a major figure in mid- and late- 20th-century American letters. This second volume of Robert Duncan's collected poetry and plays presents authoritative annotated texts of both collected and uncollected work from his middle and late writing years (1958-1988), with commentaries on each of the five books from this period: The Opening of the Field, Roots and Branches, Bending the Bow, and the two volumes of Ground Work.



The biographical and critical introduction discusses Duncan as a late Romantic and postmodern American writer; his formulation of a homosexual poetics; his development of the serial poem; the notation and centrality of sound as organizing principle; his relations with such fellow poets as Robin Blaser, Charles Olson, and Jack Spicer; his indebtedness to Alfred North Whitehead; and his collaborations with the painter Jess Collins, his lifelong partner. Texts include his anti-war poems of the 1960s and 70s, his homages to Dante and other canonical poets, and his translations from the French of Gérard de Nerval, as well as the complete Structure of Rime and Passages series.

 
Praise For Robert Duncan: The Collected Later Poems and Plays (The Collected Writings of Robert Duncan #3)…
"Includes some of Duncan's finest essays . . . a great help to all readers."
— CHOICE
"The Collected Later Poetry and Plays represents the assured completion of the vital gathering already underway with The Collected Early Poetry and Plays. With these two volumes the canon of Duncan's poetry is fully established and readily available to a broad audience."
— Bookslut
University of California Press, 9780520324862, 924pp.
Publication Date: October 22, 2019
About the Author

Robert Duncan (1919–1988) was a foremost figure in the San Francisco Renaissance and is considered one of the most accomplished and influential postwar American poets. He became a leading practitioner of nontraditional open form poetry, his later work shaped by ideas associated with Charles Olson and the Black Mountain School of poetry. During his lifetime, he published more than a dozen collections of poems, including those in this volume, which remain his best-known works.



Peter Quartermain taught contemporary poetry and poetics at the University of British Columbia for over thirty years. He is the author of Basil Bunting, Poet of the North; Disjunctive Poetics: From Gertrude Stein and Louis Zukofsky to Susan Howe; and Stubborn Poetries: Poetic Facticity and the Avant-Garde. He is the editor of Robert Duncan's Collected Early Poems and Plays (UC Press).