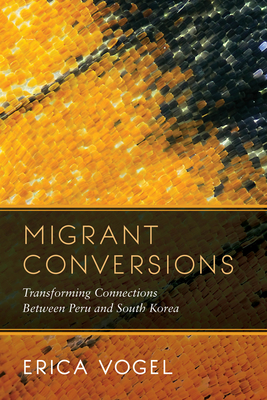 Migrant Conversions
Transforming Connections Between Peru and South Korea (Global Korea #3)
Paperback

* Individual store prices may vary.
Description
A free open access ebook is available upon publication. Learn more at www.luminosoa.org.

Peruvian migrant workers began arriving in South Korea in large numbers in the mid 1990s, eventually becoming one of the largest groups of non-Asians in the country. Migrant Conversions shows how despite facing unstable income and legal exclusion, migrants come to see Korea as an ideal destination. Some even see it as part of their divine destiny. Faced with looming departures, Peruvians develop cosmopolitan plans to transform themselves from economic migrants into pastors, lovers, and leaders. Set against the backdrop of 2008's global financial crisis, Vogel explores the intersections of three types of conversions— money, religious beliefs and cosmopolitan plans—to argue that conversions are how migrants negotiate the meaning of their lives in a constantly changing transnational context. At the convergence of cosmopolitan projects spearheaded by the state, churches, and other migrants, Peruvians change the value and meaning of their migrations. Yet, in attempting to make themselves at home in the world and give their families more opportunities, they also create potential losses. As Peruvians help carve out social spaces, they create complex and uneven connections between Peru and Korea that challenge a global hierarchy of nations and migrants. Exploring how migrants, churches and nations change through processes of conversion reveals how globalization continues to impact people's lives and ideas about their futures and pasts long after they have stopped moving, or that particular global moment has come to an end.
 
Praise For Migrant Conversions: Transforming Connections Between Peru and South Korea (Global Korea #3)…
"An interesting book that makes a timely contribution to enhancing our understandings of the plurality of foreign experiences in East Asia. It offers readers excellent ethnography combined with interesting conceptual arguments."
— Asian Ethnology

"Deserves praise for vividly portraying the experiences of Peruvian migrants in Korea, which have not been explored so far, through thick description."
— Ethnic and Racial Studies

"Carries an academic value because of its contribution to studies on globalization."
— H-LatAm

"Migrant Conversions contributes new and innovative material to the study of Latin American-Asian migration. . . . [It] moves us closer to understanding the multilayered migration experiences of Peruvians in areas that have received little attention and is a delightful read."
— International Migration Review
University of California Press, 9780520341173, 188pp.
Publication Date: March 10, 2020
About the Author
Erica Vogel is Associate Professor of Anthropology at Saddleback College.