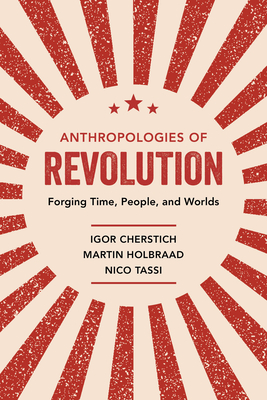 Anthropologies of Revolution
Forging Time, People, and Worlds
Paperback

* Individual store prices may vary.
Description
A free open access ebook is available upon publication. Learn more at www.luminosoa.org.

What can anthropological thinking contribute to the study of revolutions? The first book-length attempt to develop an anthropological approach to revolutions, Anthropologies of Revolution proposes that revolutions should be seen as concerted attempts to radically reconstitute the worlds people inhabit. Viewing revolutions as all-embracing, world-creating projects, the authors ask readers to move beyond the idea of revolutions as acts of violent political rupture, and instead view them as processes of societal transformation that penetrate deeply into the fabric of people's lives, unfolding and refolding the coordinates of human existence.
University of California Press, 9780520343795, 212pp.
Publication Date: June 2, 2020
About the Author
Igor Cherstich is a Teaching Fellow in Social Anthropology at University College London. He is coeditor of the special issue The Multiple Narratives of the Libyan Revolution, Middle East Critique.
 
Martin Holbraad is Professor of Social Anthropology at University College London. He is author of Truth in Motion: The Recursive Anthropology of Cuban Divination and coauthor of The Ontological Turn: An Anthropological Exposition.

Nico Tassi is Research Associate at the Universidad Mayor de San Andrés in La Paz, Bolivia, and author of The Native World System: An Ethnography of Bolivian Aymara Traders in the Global Economy.