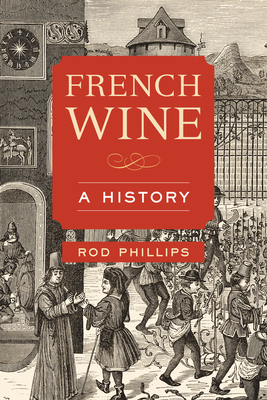 French Wine
A History
Paperback

* Individual store prices may vary.
Other Editions of This Title:
Hardcover (10/11/2016)
Description
"A fascinating book that belongs on every wine lover's bookshelf."—The Wine Economist

"It's a book to read for its unstoppable torrent of fascinating and often surprising details."—Andrew Jefford, Decanter

For centuries, wine has been associated with France more than with any other country. France remains one of the world's leading wine producers by volume and enjoys unrivaled cultural recognition for its wine. If any wine regions are global household names, they are French regions such as Champagne, Bordeaux, and Burgundy. Within the wine world, products from French regions are still benchmarks for many wines.
 
French Wine is the first synthetic history of wine in France: from Etruscan, Greek, and Roman imports and the adoption of wine by beer-drinking Gauls to its present status within the global marketplace. Rod Phillips places the history of grape growing and winemaking in each of the country's major regions within broad historical and cultural contexts.

Examining a range of influences on the wine industry, wine trade, and wine itself, the book explores religion, economics, politics, revolution, and war, as well as climate and vine diseases. French Wine is the essential reference on French wine for collectors, consumers, sommeliers, and industry professionals.
Praise For French Wine: A History…
"Rod Phillips' comprehensive book, French Wine: A History, is an absolute tour de force, sure to be an instant classic."
— Pam Strayer

"Offers insight on France's modern rise to wine world prominence, taking us back through several eras (Enlightenment to the Middle Ages, and beyond) to show us that the country's current premiere status was hard-won. Wine does not exist in a vacuum, and Phillips touches on several of the industry's outside forces in France, including religion and politics — two things you want to avoid talking about when you're drinking, but should feel free to read about anytime."
— Michael Austin

"A fascinating book that belongs on every wine lover's bookshelf."
— The Wine Economist

"An absolute tour de force, sure to be an instant classic."
— Organic Wines Uncorked

"A Must Have for any wine lover. It is composed of exceedingly good information - a well researched substantive book that is a very satisfying read. I dare you not to underline half of it."
— Organic Wines Uncorked

"History buffs and French wine fans will enjoy."
— Winnipeg Free Press

"Almost every page contains a gem."
— Henry Jeffreys

"Phillips' lively masterwork seamlessly wraps culture, politics and religion into an adventurous saga covering 25 centuries and a fascinating array of happenings into a compelling and engaging narrative. History lessons should always be this engrossing."
— Bill Ward

"Phillips has packed so much into this book that no one-page review will ever do it justice, and neither would there be any point in writing more. He writes so much better than I can summarise. With so much exquisite detail, and yet with the rare ability to keep looping the reader back to the big picture, he rewards anyone who is remotely curious about how we've got to where we are with French wine. It is not a paean to French wine, and neither is it a deposition. It's the piecing together of a jigsaw puzzle, and whether you like the end picture or not is entirely up to you."

— JancisRobinson.com

"It's a book to read for its unstoppable torrent of fascinating and often surprising details."
— Andrew Jefford

"This is addictively readable history, Phillips's easy style backed up by formidable research."
— New Statesman

"Sizable in terms of the rich historical content and context of the topic. . . . It's not a fast or particularly easy read, but ultimately a worthwhile one."
— 1WineDude

"Phillips's masterly survey of the history of French wine covers a 2,500-year span from 500 BCE to the present day. Deeply knowledgeable, remarkably clear, and consistently readable, it is the first such history in the English language."
— The Social History of Alcohol and Drugs

"For the first time in English, this book comprehensively addresses the study of the production, consumption, and trade of wine in France from the beginning of the activity to the present day. . . .  Constitutes an interesting contribution and an essential reference on the subject."
— Journal of Wine Economics

"A masterpiece in its genre and should be a must in the bookshelf of anyone interested in French wines."
— Vinforum

"From the Greeks and Romans, the Black Death, the Classification of 1855,Phylloxera, and two world wars, do you need all this information? If you're a wine guy… you do!"
 
— Tom Simoneau,
University of California Press, 9780520355439, 319pp.
Publication Date: April 7, 2020
About the Author
Rod Phillips teaches history at Carleton University in Ottawa and is the author of a number of books on European social history and the history of wine and alcohol, including Alcohol: A History and A Short History of Wine.