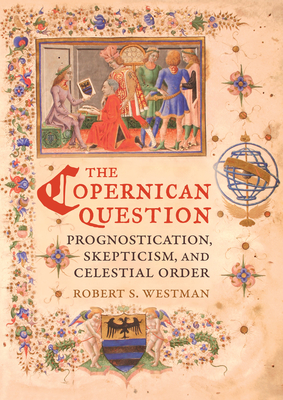 The Copernican Question (Paperback)
Prognostication, Skepticism, and Celestial Order
University of California Press, 9780520355699, 702pp.
Publication Date: April 21, 2020
Other Editions of This Title:
Hardcover (7/28/2011)
* Individual store prices may vary.
Description
In 1543, Nicolaus Copernicus publicly defended his hypothesis that the earth is a planet and the sun a body resting near the center of a finite universe. But why did Copernicus make this bold proposal? And why did it matter? The Copernican Question reframes this pivotal moment in the history of science, centering the story on a conflict over the credibility of astrology that erupted in Italy just as Copernicus arrived in 1496. Copernicus engendered enormous resistance when he sought to protect astrology by reconstituting its astronomical foundations. Robert S. Westman shows that efforts to answer the astrological skeptics became a crucial unifying theme of the early modern scientific movement. His interpretation of this long sixteenth century, from the 1490s to the 1610s, offers a new framework for understanding the great transformations in natural philosophy in the century that followed.
About the Author
Robert S. Westman is Professor of History and Director of the Science Studies Program at the University of California, San Diego.
Praise For The Copernican Question: Prognostication, Skepticism, and Celestial Order…
"Now, more than forty years after [Westman] began work, twenty-five years after he announced the book as forthcoming, twenty years after he decided his first project was insufficiently ambitious, six years after he came to a sort of a stop – now, at long last, we have this vast (and beautifully produced and illustrated) book to hold in our hands."
— Times Literary Supplement
"[An] enormously erudite treatment."
— Science
"A rich, multifaceted work."
— Renaissance Quarterly
"Westman proposes a radically new approach to his subject, which will surprise more than one specialist in Copernican studies."
— Journal For The History Of Astronomy
"This is a towering achievement. . . .Westman is a gifted writer who knows how to maintain the interest of the reader who is not an expert in astronomy."
— American Historical Review
"Westman takes readers back to the 15th century, showing the transformation of thought from mysticism and astrological predictions to the beginning of modern science, with the contributions of Galileo and Newton. - Recommended."
— Choice
"This important work—massive, original, provocative, and potentially transformational—is the culmination of a lifetime's work."
— Quest: History Of Spaceflight
"This substantial book is magnificent in command of materials and in its clear presentation of them all. We see astrology giving way to astronomy. We understand the forces both progressive and regressive in the age of vast alteration beginning in the last decade of the fifteenth century. We grasp the movement toward the first decade of the seventeenth. . . . With extraordinary illustrations, this is a wonderful book."
— Bibliotheque D'humanisme Et Renaissance
"An extraordinary book written by one of the finest historians of science."
— New Books In Science, Technology, And Society
"[A] powerful, thoughtful reinterpretation of the entire period from around 1500 to around
1700. . .This is an important book. Get it and read it carefully. . . . Westman has made a major contribution to the new picture that is emerging of Copernicus's life and work."
— Metascience
"a radical and largely unanticipated interpretation of the history of Copernican heliocentrism. . .This book is indispensable and will remain at the center of the scholarly debate for a long time to come."
— Galilaeana
"The Copernican Question opens a number of significant interpretive paths. . .It reframes Copernicus deeply in the social practices and institutions of early modern mathematical culture [and] gives the broadest, richest account yet available of the pan-European institutional dynamics of that culture."
— Fides et Historia
". . .a towering achievement not only because it covers an extended period of time but also because Westman is a gifted writer who knows how to maintain the interest of the reader who is not an expert in astronomy."
— American Historical Review
"Without a doubt, The Copernican Question is a landmark in what was already one of the most intensely studied topics in the history of science."
— The British Journal for the History of Science