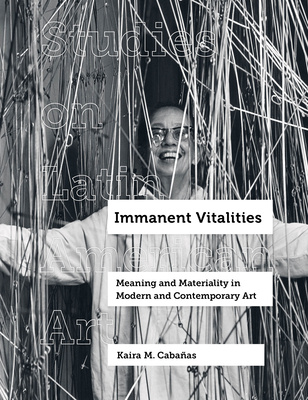 Immanent Vitalities
Meaning and Materiality in Modern and Contemporary Art (Studies on Latin American Art #4)
Hardcover

* Individual store prices may vary.
Description
A new reality for the art object has emerged in the world of contemporary art: it is now experienced less as an autonomous, inanimate form and more as an active material agent. In this book, Kaira M. Cabañas describes how such a shift in conceptions of art's materiality came to occur, exploring key artistic practices in Venezuela, Brazil, and Western Europe from the mid-twentieth century to the present. Immanent Vitalities expands the discourse of new materialisms by charting how artists, ranging from Gego to Laura Lima, distance themselves from dualisms such as mind-matter, culture-nature, human-nonhuman, and even Western–non-Western in order to impact our understanding of what is animate. Tracing migrations of people, objects, and ideas between South America and Europe, Cabañas historicizes changing perceptions about art's agency while prompting readers to remain attentive to the ethical dimensions of materiality and of social difference and lived experience.
Praise For Immanent Vitalities: Meaning and Materiality in Modern and Contemporary Art (Studies on Latin American Art #4)…
"Immensely interesting and thought provoking. Dr. Cabañas's work is a great example of how art historians can interweave multiple areas, histories, and theories to explore art and innovation."
— Book Riot
University of California Press, 9780520356221, 240pp.
Publication Date: April 6, 2021
About the Author
Kaira M. Cabañas is Professor of Global Modern and Contemporary Art History at the University of Florida, Gainesville. She is the author of The Myth of Nouveau Réalisme: Art and the Performative in Postwar France; Off-Screen Cinema: Isidore Isou and the Lettrist Avant-Garde; and Learning from Madness: Brazilian Modernism and Global Contemporary Art.