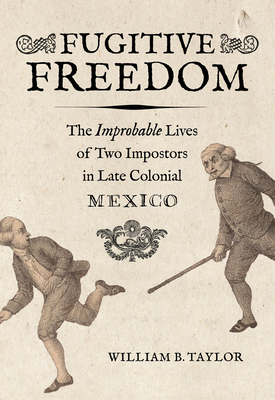 Fugitive Freedom
The Improbable Lives of Two Impostors in Late Colonial Mexico
Hardcover

* Individual store prices may vary.
Description
Cut loose from their ancestral communities by wars, natural disasters, and the great systemic changes of an expanding Europe, vagabond strangers and others out of place found their way through the turbulent history of early modern Spain and Spanish America. As shadowy characters inspiring deep suspicion, fascination, and sometimes charity, they prompted a stream of decrees and administrative measures that treated them as nameless threats to good order and public morals. The vagabonds and impostors of colonial Mexico are as elusive in the written record as they were on the ground, and the administrative record offers little more than commonplaces about them. Fugitive Freedom locates two of these suspect strangers, Joseph Aguayo and Juan Atondo, both priest impersonators and petty villains in central Mexico during the last years of Spanish rule.
Displacement brought pícaros to the forefront of Spanish literature and popular culture—a protean assortment of low life characters, seen as treacherous but not usually violent, shadowed by poverty, on the move and on the make in selfish, sometimes clever ways as they navigated a hostile, sinful world. What to make of the lives and longings of Aguayo and Atondo, which resemble those of one or another literary pícaro? Did they imagine themselves in literary terms, as heroes of a certain kind of story? Could impostors like these have become fixtures in everyday life with neither a receptive audience nor permissive institutions? With Fugitive Freedom, William B. Taylor provides a rare opportunity to examine the social histories and inner lives of two individuals at the margins of an unfinished colonial order that was coming apart even as it was coming together.
University of California Press, 9780520368569, 224pp.
Publication Date: February 23, 2021
About the Author
William B. Taylor is Muriel McKevitt Sonne Professor of History, Emeritus, at the University of California, Berkeley. His books on Latin American history include Theater of a Thousand Wonders: A History of Miraculous Images and Shrines in New Spain, as well as Drinking, Homicide, and Rebellion in Colonial Mexican Villages and Magistrates of the Sacred: Priests and Parishioners in Eighteenth-Century Mexico.