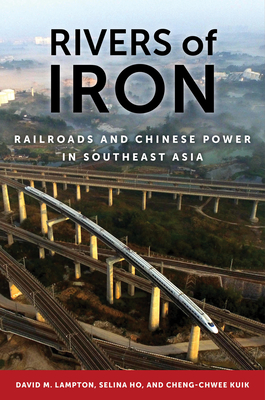 Rivers of Iron
Railroads and Chinese Power in Southeast Asia
Hardcover

* Individual store prices may vary.
Description
What China's infamous railway initiative can teach us about global dominance.

In 2013, Chinese President Xi Jinping unveiled what would come to be known as the Belt and Road Initiative (BRI)—a global development strategy involving infrastructure projects and associated financing throughout the world, including Asia, Africa, the Middle East, Europe, and the Americas. While the Chinese government has framed the plan as one promoting transnational connectivity, critics and security experts see it as part of a larger strategy to achieve global dominance. Rivers of Iron examines one aspect of President Xi Jinping's "New Era": China's effort to create an intercountry railway system connecting China and its seven Southeast Asian neighbors (Cambodia, Laos, Malaysia, Myanmar, Singapore, Thailand, and Vietnam). This book illuminates the political strengths and weaknesses of the plan, as well as the capacity of the impacted countries to resist, shape, and even take advantage of China's wide-reaching actions. Using frameworks from the fields of international relations and comparative politics, the authors of Rivers of Iron seek to explain how domestic politics in these eight Asian nations shaped their varying external responses and behaviors. How does China wield power using infrastructure? Do smaller states have agency? How should we understand the role of infrastructure in broader development? Does industrial policy work? And crucially, how should competing global powers respond?
 
Praise For Rivers of Iron: Railroads and Chinese Power in Southeast Asia…
"Rivers of Iron tactfully deals with China's power from the perspectives of China and seven Southeast Asian countries. . . . The book's on-the-ground illuminations of the three major misconceptions about China's overseas rail projects are highly valuable. They clear the smokescreen for both academic researchers and policy makers in understanding China's power and the neighboring countries' capacities to react."
— The China Journal
"
Rivers of Iron
 shines a lot of new light on today's China, and it should be required reading for all China-watchers and scholars."
— Australian Outlook
"Insightful and readable."
— Perspectives on Politics
"Rivers of Iron makes an important contribution to the study of China's exercise of its power and interaction with its southern neighbours. . . . An important book for academics and policymakers interested in Chinese power and its implications."
— China Quarterly
"The book provides a useful overview and discussion of the complexity of China's expansion in infrastructure abroad and could appeal to a wide readership interested in current development in Southeast Asia."
— Connections
University of California Press, 9780520372993, 336pp.
Publication Date: October 13, 2020
About the Author
David M. Lampton is Professor Emeritus at Johns Hopkins University's School of Advanced International Studies (SAIS) and Research Scholar and Oksenberg-Rohlen Fellow at Stanford University's Asia-Pacific Research Center. He has served as president of the National Committee on United States–China Relations and was the inaugural winner of the Scalapino Prize in 2010. He is the author of Following the Leader: Ruling China, from Deng Xiaoping to Xi Jinping.
 
Selina Ho is Assistant Professor and Chair (Master in International Affairs Program) at the Lee Kuan Yew School of Public Policy, National University of Singapore. She is also nonresident Senior Fellow at the Singapore Institute of International Affairs. She is the author of Thirsty Cities: Social Contracts and Public Goods Provision in China and India.
 
Cheng-Chwee Kuik is Associate Professor and Head of the Centre for Asian Studies, the Institute of Malaysian and International Studies at the National University of Malaysia, and a nonresident Fellow at the Foreign Policy Institute, SAIS Johns Hopkins. He received the 2009 Michael Leifer Memorial Prize, presented by the Institute of Southeast Asian Studies, for his essay "The Essence of Hedging."