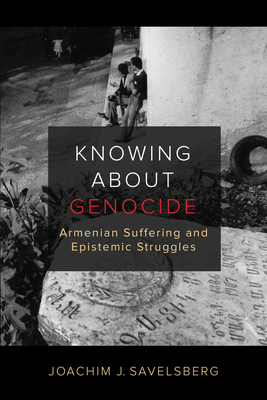 Knowing about Genocide
Armenian Suffering and Epistemic Struggles
Paperback

* Individual store prices may vary.
Description
A free open access ebook is available upon publication. Learn more at www.luminosoa.org.

This book is freely available in an open access edition thanks to TOME (Toward an Open Monograph Ecosystem)—a collaboration of the Association of American Universities, the Association of University Presses, and the Association of Research Libraries—and the generous support of the University of Minnesota. Learn more at the TOME website, available at openmonographs.org.

How do victims and perpetrators generate conflicting knowledge about genocide? Using a sociology of knowledge approach, Savelsberg answers this question for the Armenian genocide committed in the context of the First World War. Focusing on Armenians and Turks, he examines strategies of silencing, denial, and acknowledgment in everyday interaction, public rituals, law, and politics. Drawing on interviews, ethnographic accounts, documents, and eyewitness testimony, Savelsberg illuminates the social processes that drive dueling versions of history. He reveals counterproductive consequences of denial in an age of human rights hegemony, with implications for populist disinformation campaigns against overwhelming evidence.
Praise For Knowing about Genocide: Armenian Suffering and Epistemic Struggles…
"Savelsberg's sociological analysis of the knowledge about the Armenian genocide is an important contribution to the fields of sociology, law, political science, and history. . . . His book enhances our understanding of how knowledge about mass crimes is shaped, disseminated, sedimented, denied, and acknowledged by contending parties."
— Critical Inquiry
"In 2021, as we witness the denial of racism, life-threatening viruses, and systemic violence, Savelsberg's analysis of the epistemic debates surrounding the Armenian Genocide shows us a pathway forward where social actors mobilize against those in power to create new public repertoires of knowledge."
— Social Forces
"Knowing about Genocide impressively manages to pin down the sociology of Armenian genocide knowledge while simultaneously overflowing its specificity. . . . The book is best suited for students or scholars in the fields of memory studies, sociology, genocide studies, anthropology, and history who seek to contextualize the ways in which memory of the past is processed and honed in service of contemporary ethnic and national interests."
— Past Tense Graduate Review of History
"One would hope. . . that the successful emergence of epistemic knowledge that [Savelsberg] describes so well over the past century will find more adequate institutional expression to interrupt the massive violence and promise at least some measure of protection for the innocent. The sociology of knowledge has helped set an agenda."
— American Journal of Sociology
"In
Knowing about Genocide: Armenian Suffering and Epistemic Struggles
, Joachim J. Savelsberg presents several innovative sociological approaches for understanding the aftermath of an event that occurred over 100 years ago—the Armenian Genocide of 1915. . . .
Knowing about Genocide
arrives at a critical moment when Armenians continue to grapple with how to survive a repeated silencing and denial of their trauma."  
— Contemporary Sociology
"
Knowing About Genocide: Armenian Suffering and Epistemic Struggles
helps readers make sense of…complexity. . . .enormously relevant for these times."
— State Crime Journal
"Empirically robust. . . .Savelsberg has initiated what should become a very powerful line of research."
— Law & Social Inquiry
University of California Press, 9780520380189, 264pp.
Publication Date: March 30, 2021
About the Author
Joachim J. Savelsberg is Professor of Sociology and Law and holder of the Arsham and Charlotte Ohanessian Chair at the University of Minnesota. He is the author of Representing Mass Violence: Conflicting Responses to Human Rights Violations in Darfur.