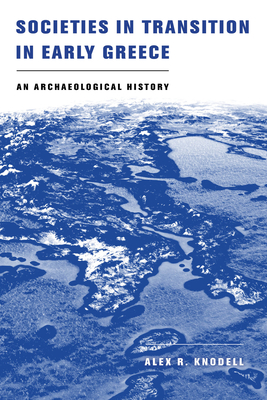 Societies in Transition in Early Greece
An Archaeological History
Paperback

* Individual store prices may vary.
Description
A free open access ebook is available upon publication. Learn more at www.luminosoa.org.

Situated at the disciplinary boundary between prehistory and history, this book presents a new synthesis of Late Bronze Age and Early Iron Age Greece, from the rise and fall of Mycenaean civilization, through the "Dark Age," and up to the emergence of city-states in the Archaic period. This period saw the growth and decline of varied political systems and the development of networks that would eventually expand to nearly all shores of the Middle Sea. Alex R. Knodell argues that in order to understand how ancient Greece changed over time, one must analyze how Greek societies constituted and reconstituted themselves across multiple scales, from the local to the regional to the Mediterranean. Knodell employs innovative network and spatial analyses to understand the regional diversity and connectivity that drove the growth of early Greek polities. As a groundbreaking study of landscape, interaction, and sociopolitical change, Societies in Transition in Early Greece systematically bridges the divide between the Mycenaean period and the Archaic Greek world to shed new light on an often-overlooked period of world history.
Praise For Societies in Transition in Early Greece: An Archaeological History…
"Overall, this is a very valuable read for more advanced students and scholars of Greek protohistory . . .It offers more refined and  data-rich overview of punctuated changes, and it highlights the varied regional dynamics in central Greece that led to the emergence of the insti-tution of the polis, without prioritizing too much the big, better-known centers such as Athens, Thebes, and Lefkandi."
— American Journal of Archaeology
"An inspiring, sophisticated, and scrupulously researched study of central Greece...[Knodell offers] a multiscalar picture—as refreshing as it is compelling—that will serve as a solid example of good practice, from which any archaeologist interested in diverse and changing social complexities from a landscape perspective can benefit."  
— American Antiquity
University of California Press, 9780520380530, 382pp.
Publication Date: May 25, 2021
About the Author
Alex R. Knodell is Associate Professor of Classics and Director of the Archaeology Program at Carleton College. In Greece, he co-directs the Small Cycladic Islands Project and the Mazi Archaeological Project. He is the author of numerous academic articles and co-editor of Regional Approaches to Society and Complexity.