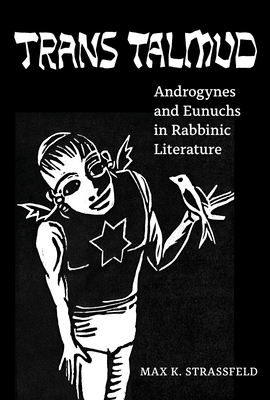 Trans Talmud
Androgynes and Eunuchs in Rabbinic Literature
Hardcover

* Individual store prices may vary.
Description
Trans Talmud places eunuchs and androgynes at the center of rabbinic literature and asks what we can learn from them about Judaism and the project of transgender history. Rather than treating these figures as anomalies to be justified or explained away, Max K. Strassfeld argues that they profoundly shaped ideas about law, as the rabbis constructed intricate taxonomies of gender across dozens of texts to understand an array of cultural tensions. Showing how rabbis employed eunuchs and androgynes to define proper forms of masculinity, Strassfeld emphasizes the unique potential of these figures to not only establish the boundary of law but exceed and transform it. Trans Talmud challenges how we understand gender in Judaism and demonstrates that acknowledging nonbinary gender prompts a reassessment of Jewish literature and law.

 
Praise For Trans Talmud: Androgynes and Eunuchs in Rabbinic Literature…
"In a world that seeks to erase our history and our bodies, these texts provide images of a past where we may have existed, albeit with complexities. To study Talmud is to dream our past into the future, and to engage in the act of traveling through time accompanied by our ancestors' voices. . . . As queer, trans and nonbinary Jews do the work of consciously creating a usable past, Trans Talmud invites us to do so with more integrity and precision."
— Lilith
"Dr. Max Strass­feld, Assis­tant Pro­fes­sor of Reli­gious Stud­ies at the Uni­ver­si­ty of Ari­zona, now offers us a wel­come guide to Tal­mu­dic gender(s) in this metic­u­lous, far-reach­ing, and lyri­cal book. It wel­comes a wide vari­ety of read­ers with patient expla­na­tions of cen­tral con­cepts in the fields of gen­der and queer stud­ies and the world of the Tal­mud and rab­binic lit­er­a­ture of late antiq­ui­ty."
— Jewish Book Council
University of California Press, 9780520382053, 262pp.
Publication Date: April 26, 2022
About the Author
Max K. Strassfeld is Assistant Professor in the Department of Religious Studies and Classics at the University of Arizona.