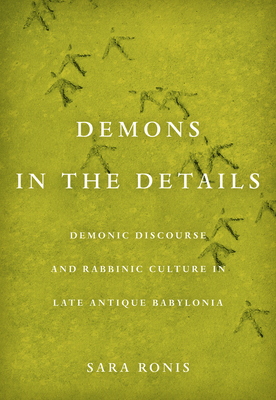 Demons in the Details
Demonic Discourse and Rabbinic Culture in Late Antique Babylonia
Hardcover

* Individual store prices may vary.
Description
The Babylonian Talmud is full of stories of demonic encounters, and it also includes many laws that attempt to regulate such encounters. In this book, Sara Ronis takes the reader on a journey across the rabbinic canon, exploring how late antique rabbis imagined, feared, and controlled demons. Ronis contextualizes the Talmud's thought within the rich cultural matrix of Sasanian Babylonia, placing rabbinic thinking in conversation with Sumerian, Akkadian, Ugaritic, Syriac Christian, Zoroastrian, and Second Temple Jewish texts about demons to delve into the interactive communal context in which the rabbis created boundaries between the human and the supernatural, and between themselves and other religious communities. Demons in the Details explores the wide range of ways that the rabbis participated in broader discussions about beliefs and practices with their neighbors, out of which they created a profoundly Jewish demonology.
University of California Press, 9780520386174, 316pp.
Publication Date: August 9, 2022
About the Author
Sara Ronis is Associate Professor of Theology at St. Mary's University in San Antonio, Texas.