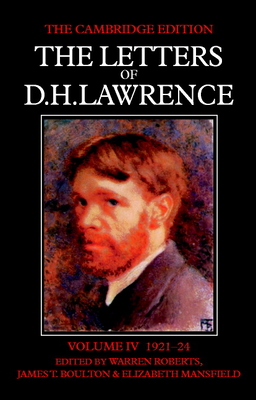 The Letters of D. H. Lawrence (Cambridge Edition of the Letters of D. H. Lawrence) (Paperback)
Cambridge University Press, 9780521006958, 672pp.
Publication Date: June 6, 2002
Other Editions of This Title:
Paperback (8/8/2002)
Paperback (11/28/2002)
Paperback (5/9/2002)
Paperback (9/1/2003)
Paperback (6/6/2002)
Paperback (6/6/2002)
Hardcover (4/1/2001)
Hardcover (9/27/1979)
Hardcover (11/29/1984)
Hardcover (8/10/1989)
Hardcover (2/26/1982)
* Individual store prices may vary.
Description
This volume contains 848 letters from the period June 1921 to March 1924. Lawrence decides to leave the old world - 'my heart - and my soul are broken in Europe' - to live in Taos, New Mexico. This period is characterised by the travelling he and Frieda do, from Australia to New York, via Mexico, back to England and finally to New York again. Lawrence's writings of the period reflect his restlessness. The action of Aaron's Rod shifts from a coal-mining town in England to Florence and Kangaroo conveys Lawrence's perceptions of Australia. By 1924, Lawrence is returning to Taos to write his Mexican novel, 'Quetzacoatl', published as The Plumed Serpent. His difficulties with agents and publishers continue to appear in the letters. New correspondences are started with Australians, including Mollie Skinner, the co-author of The Boy in the Bush, and Americans, such as Mabel Luhan, Idella Purnell and Witter Bynner.