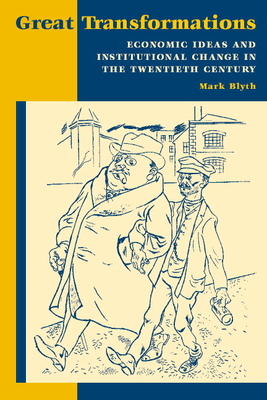 Great Transformations (Paperback)
Economic Ideas and Institutional Change in the Twentieth Century
Cambridge University Press, 9780521010528, 298pp.
Publication Date: October 31, 2002
Other Editions of This Title:
Hardcover (10/31/2002)
* Individual store prices may vary.
Description
Mark Blyth argues that economic ideas are powerful political tools as used by domestic groups in order to effect change since whoever defines what the economy is, what is wrong with it, and what would improve it, has a profound political resource in their possession. Blyth analyzes the 1930s and 1970s, two periods of deep-seated institutional change that characterized the twentieth century. Viewing both periods of change as part of the same dynamic, Blyth argues that the 1930s labor reacted against the exigencies of the market and demanded state action to mitigate the market's effects by "embedding liberalism" and the 1970s, those who benefited least from such "embedding" institutions, namely business, reacted against these constraints and sought to overturn that institutional order. In Great Transformations, Blyth demonstrates the critical role economic ideas played in making institutional change possible and he rethinks the relationship between uncertainty, ideas, and interests on how, and under what conditions, institutional change takes place. Mark Blyth is an assistant professor of political science at the Johns Hopkins University specializing in comparative political economy. He has taught at Columbia University, and at the University of Birmingham, UK. Blyth is a member of the editorial board of the Review of International Political Economy.