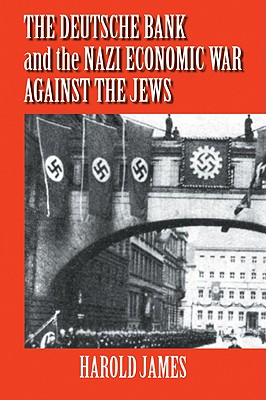 The Deutsche Bank and the Nazi Economic War Against the Jews (Paperback)
The Expropriation of Jewish-Owned Property
Cambridge University Press, 9780521027304, 284pp.
Publication Date: June 22, 2006
Other Editions of This Title:
Hardcover (5/17/2001)
* Individual store prices may vary.
Description
Deutsche Bank, Germany's largest financial institution, played an important role in the expropriation of Jewish-owned enterprises during the Nazi dictatorship, both in the existing territories of Germany, and in the areas seized by the German army during World War II, particularly Austria, Czechoslovakia, and Poland. Drawing on new and previously unavailable materials, including branch records, and many from the Bank's own archives, Harold James examines policies that led to the eventual Genocide of European Jews. How much did the realization of the Nazi ideology depend on the acquiescence, the complicity, and the cupidity of individuals and economic institutions? Contradicting the traditional view that businesses were motivated by profit to cooperate with the Nazi regime, James closely examines the behavior of the bank and its individuals to suggest other motivations. James' unparalleled access and unusual perspective distinguishes this work as the only book to examine one company's involvement in the economic persecution of the Jews in Nazi Germany. Harold James is Professor of History at Princeton University. He is a member of the Independent Commission of Experts investigating the political and economic links of Switzerland with Nazi Germany, and of commissions to examine the roles of Deutsche Bank and Dresdner Bank. He is the author of several books on Germany economy and society, including Germany: The German Slump (Oxford University Press, 1986), A Germany Identity 1770-1990 (Routledge, 1993), and International Monetary Cooperation Since 1945 (Oxford University Press, 1996). He co-edited several books, including The Role of Banks in the Interwar Economy (Cambridge, 1991). James was also co-author of an earlier history of the commercial bank Deutsche Bank (Deutsche Bank 1870-1995, Weidenfeld and Nicholson, 1995) which won the Financial Times Global Business Book Award in 1996. He lives in Princeton, New Jersey.