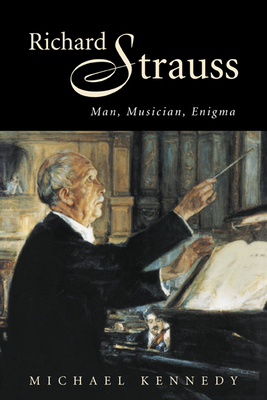 Richard Strauss
Man, Musician, Enigma
Paperback

* Individual store prices may vary.
Other Editions of This Title:
Hardcover (1/13/1999)
Description
Was Richard Strauss the most incandescent composer of the twentieth century or merely a bourgeoisie artist and Nazi sympathizer? For the fifty years since his death on September 8, 1949, Richard Strauss has remained dogmatically elusive in the wider body of musical and historical criticism. Lauded as nothing less than the "greatest musical figure" of his time by Canadian musician, Glenn Gould, in 1962, Strauss also has attracted his share of posthumous epithets: in summary, an artist who lived off his own fat during his later years. As recently as 1995, the English critic Rodney Milnes wrote, "the court of posterity is still reserving judgment." In Richard Strauss: Man, Musician, Enigma, biographer Michael Kennedy demonstrates that the many varying shades of criticism that have painted this figure in the past half century resemble the similar understandings and misunderstandings held by his contemporaries--perceptions that touched almost every aspect of Strauss' life and career. Introducing his detailed work more as a broad explication than a firm answer to the Straussian riddle, Kennedy's scope includes the exuberant, extroverted Strauss of young adulthood as well as the phlegmatic and aloof middle-aged man who resembled a "prosperous bank manager;" the arch-fiend of modernism and the composer who redefined the term; a man who professed to lack all spiritual curiosity and a musician who penned the touching ballet Der Kometentanz; an at times almost humble family man and an artist who claimed to be as interesting as Napoleon and Alexander the Great. Kennedy clearly elucidates his enigmatic subject by building his analysis around the few constants in Strauss' life: his profound admiration for German culture, his dependence on his own family for guidance, and his "Nietzschean total absorption in art." This frame offers everyone from Straussian scholars to general readers an insightful and easy-to-follow biographical narrative. Kennedy also deals at length with Strauss' problematic relationship with Nazi authorities, detailing his incompatible roles as the father-in-law of a Jewish woman and as one of the country's leading composers. Michael Kennedy is the chief music critic of the (London) Sunday Telegraph and the author of many books about music.
Cambridge University Press, 9780521027748, 468pp.
Publication Date: November 2, 2006